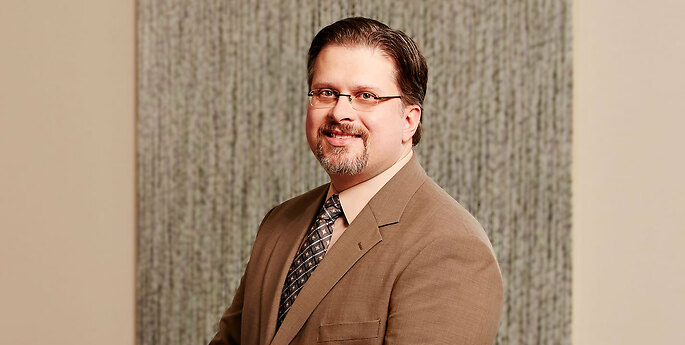 Alfonzo I. Cutaia
Partner, Intellectual Property & Technology Practice Leader
Admissions
New York
U.S. Patent and Trademark Office
Education
Kettering University (formerly General Motors Institute), B.S.
University at Buffalo School of Law, J.D., magna cum laude
Al focuses on patent practice in the general electrical, software, and mechanical arts, as well as trademark and copyright prosecution. His practice covers a number of technical disciplines, including electronics, software, mobile devices, spintronics, medical devices, dental devices, optics, metrology, industrial mechanical systems, and business methods.
Prior to joining Hodgson Russ, Al served as an intellectual property assistant for the Office of Science, Technology Transfer, and Economic Outreach at the University at Buffalo. Before attending law school, he worked for 14 years at Electronic Data Systems in technical and managerial roles. At Electronic Data Systems, Al was responsible for software development for engineering systems and client/server development and management. Al also worked for two years as a research and development technician at Eastman Kodak Company.
Honors
American Bar Association and Bureau of National Affairs Award for Excellence in the Study of Intellectual Property Law
Henry A. Panasci Jr. Technology Entrepreneurship Competition
Former electronic systems editor, Buffalo Law Review

Listed, Upstate New York Super Lawyers Rising Stars, 2015 - 2018
Press Releases
Press Release

,

August 20, 2018

Press Release

,

September 6, 2017

Press Release

,

August 31, 2016

Press Release

,

January 11, 2016

Press Release

,

August 19, 2015
Publications
Hodgson Russ Intellectual Property Litigation Alert

,

October 6, 2023

Hodgson Russ Design Protection & Design Patents Alert 

,

August 9, 2023

Hodgson Russ Intellectual Property Litigation Alert

,

May 30, 2023

Hodgson Russ Intellectual Property Litigation Alert

,

March 23, 2023

Hodgson Russ Intellectual Property & Technology Alert 

,

February 7, 2023

Hodgson Russ Intellectual Property Litigation Alert

,

January 27, 2023

Hodgson Russ Intellectual Property Litigation Alert

,

December 20, 2022

Hodgson Russ Intellectual Property Alert

,

November 28, 2022

Hodgson Russ Intellectual Property Litigation Alert 

,

October 31, 2022

Hodgson Russ Intellectual Property Litigation Alert

,

October 19, 2022

Hodgson Russ Intellectual Property Litigation Alert

,

July 21, 2022

Hodgson Russ Canada-U.S. Cross-Border and Cybersecurity & Privacy Alert

,

July 7, 2022

Hodgson Russ Intellectual Property & Technology Alert

,

May 24, 2021

Hodgson Russ Cybersecurity and Privacy Alert

,

February 26, 2021

Hodgson Russ Intellectual Property & Technology Alert

,

January 7, 2021

Hodgson Russ Cybersecurity & Privacy Alert

,

December 2, 2020

Hodgson Russ Cybersecurity & Privacy Alert 

,

November 11, 2020

Hodgson Russ Cybersecurity & Privacy Alert

,

October 1, 2020

Hodgson Russ Cybersecurity & Privacy Alert

,

September 15, 2020

Hodgson Russ Cybersecurity & Privacy Alert

,

August 25, 2020

Hodgson Russ Cybersecurity & Privacy Alert

,

August 11, 2020

Hodgson Russ Cybersecurity & Privacy Alert

,

August 7, 2020

Hodgson Russ Cybersecurity & Privacy Alert

,

August 5, 2020

Hodgson Russ Cybersecurity & Privacy Alert

,

July 31, 2020

Hodgson Russ College & University Alert

,

July 31, 2020

Hodgson Russ Intellectual Property Alert

,

May 8, 2020

Hodgson Russ Cybersecurity & Privacy Alert

,

April 28, 2020

Hodgson Russ Intellectual Property Litigation Alert

,

April 27, 2020

Hodgson Russ Cybersecurity & Privacy Alert

,

March 13, 2020

Hodgson Russ Cybersecurity & Privacy Alert

,

February 24, 2020

Hodgson Russ Cybersecurity & Privacy Alert

,

February 19, 2020

Hodgson Russ Cybersecurity & Privacy Alert

,

April 30, 2019

Hodgson Russ Cybersecurity & Privacy Alert

,

March 20, 2019

Cybersecurity & Privacy Alert

,

December 17, 2018

Intellectual Property & Technology Alert

,

October 17, 2016

Intellectual Property & Technology Alert

,

April 30, 2015

Intellectual Property & Technology Alert

,

March 13, 2015

Intellectual Property & Technology Alert

,

December 30, 2014

Intellectual Property & Technology Alert

,

September 21, 2011

Every Silver Cloud Has a Dark Lining: A Primer on Cloud Computing, Regulatory and Data Security Risk

ISACA Journal

,

March 2011
Blog Posts
Al contributed to Hodgson Russ's Clean and Green Law blog. His blog entries included:
"An End to Range Anxiety," June 11, 2013
"Another Piece of the Patent Puzzle Going Into Place," January 24, 2013
"More Federal Lands to Become Available for Renewable Energy Production," August 8, 2012
Presentations & Events
Offices of Hodgson Russ

,

June 28, 2018

Intellectual Property Seminar

New York University Tandon School of Engineering

,

April 19, 2018

Patents, Copyrights and More

University of Vermont

,

April 7, 2016

Burlington, VT

,

April 2, 2015

New York, NY

,

October 17, 2013

New York, NY

,

June 26, 2013

Burlington, VT

,

November 14, 2012

New York, NY

,

October 24, 2012

New York, NY

,

February 7, 2012

Buffalo, NY

,

September 2, 2010

Ithaca, NY

,

March 9, 2010
Professional Associations
President: Niagara Frontier Intellectual Property Law Association
American Bar Association
New York State Bar Association
Community & Pro Bono
Member, Board of Directors: Ronald McDonald House Charities of Western New York