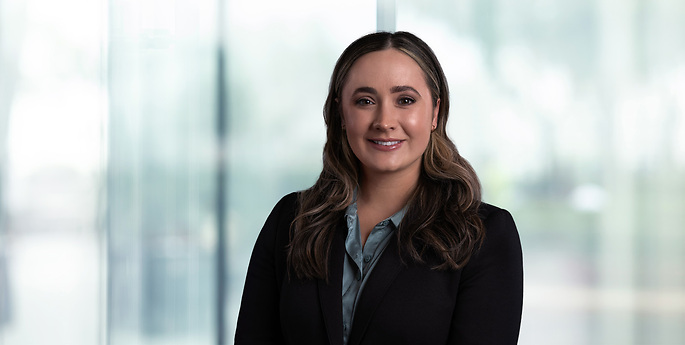 Fallon E. Martin
Associate
Practices & Industries
Bar Associations
New York State Bar Association
Erie County Bar Association
Women's Bar Association of the State of NY, Western New York Chapter
Admissions
New York
New Jersey
U.S. District Court, Western District of New York
Education
University at Buffalo, B.F.A., magna cum laude
University at Buffalo School of Law, J.D., cum laude
Fallon is a member of the firm's Business Litigation Practice. Her experience and current work centers on representing companies and corporations, guiding them through any legal issues that may arise such as protecting intellectual property, resolving non-compete disputes, litigating shareholder controversies, and defending against white-collar criminal charges. She also has significant experience working on matters involving New York Child Victims Act claims.
As a business litigator, Fallon is an energetic and strategic problem solver. She puts her clients at ease by helping them to understand all aspects of the issues they're facing – explaining them in a way in which the clients can understand. Fallon ensures her clients are able to make informed decisions by bluntly outlining all possible outcomes and scenarios. Whether it's reaching a settlement, obtaining a judgment prior to trial, or taking a matter all the way to a judge or jury, Fallon is known for obtaining the most optimal and economical outcomes for her clients.
Fallon enjoys building relationships with her clients as she counsels them through their legal issues. Whether working on a client's initial matter, or assisting them through new problems that may arise, Fallon is always available to her clients, looking out for their best interest.
Fallon is also a member of the firm's Cannabis & Hemp Practice, where she monitors the ever-changing state and federal laws in order to provide counsel to cannabis companies looking to enter the New York State market. She works to anticipate any upcoming changes to those laws and helps clients prepare accordingly. Fallon also participated in the first ever New York State Bar Association Cannabis Law Section meeting. In addition, Fallon co-authored a Law360 article giving insight and analysis on New York's Conditional Adult Use Retail Dispensary licenses.
Fallon also has significant experience representing clients through National Highway Traffic Safety Administration (NHTSA) recalls, guiding them through the initial filing, organizing corrective action, assisting them in complying with ongoing reporting requirements, and eventually resolution.
Fallon is licensed to practice law in New York; New Jersey; and U.S. District Court, Western District of New York.
Professional Associations
New York State Bar Association
Erie County Bar Association
Women's Bar Association of the State of NY, Western New York Chapter
University at Buffalo School of Law Alumni Association, Class of 2020
Community & Pro Bono
Junior Board Member, The NativityMiguel Middle School of Buffalo
Member of the President's Council, the BISON Children's Scholarship Fund
Honors
Buffalo Business First's

30 Under 30 Award, 2023
Award for Excellence in the Study of Intellectual Property Law
Teaching and Research Assistant, SUNY Buffalo, Property Law
Former Member of the Buffalo Law Review
Press Releases
Publications
Hodgson Russ Intellectual Property Litigation Alert

,

October 6, 2023

Hodgson Russ Intellectual Property Litigation Alert

,

May 30, 2023

Hodgson Russ Cannabis & Hemp Alert

,

March 29, 2023

Hodgson Russ Intellectual Property Litigation Alert

,

March 23, 2023

Hodgson Russ Product Liability & Complex Tort Client Alert

,

January 31, 2023

Hodgson Russ Intellectual Property Litigation Alert

,

January 27, 2023

Hodgson Russ Intellectual Property Litigation Alert

,

December 20, 2022

Hodgson Russ Intellectual Property Alert

,

November 28, 2022

Law360

,

November 21, 2022

Hodgson Russ Intellectual Property Litigation Alert 

,

October 31, 2022

Hodgson Russ Intellectual Property Litigation Alert

,

October 19, 2022

Hodgson Russ Cannabis & Hemp Alert

,

October 19, 2022

Hodgson Russ Intellectual Property Litigation Alert

,

July 21, 2022

Hodgson Russ Cannabis and Hemp Alert 

,

July 7, 2022

Hodgson Russ Business Litigation Alert

,

May 25, 2022

Hodgson Russ Product Liability & Complex Tort Alert

,

May 10, 2022

Hodgson Russ Product Liability Litigation & Legislation Quarterly Update

,

May 2022

Hodgson Russ Product Liability Litigation & Legislation Quarterly Update

,

January/February 2022

Hodgson Russ Cannabis & Hemp Alert

,

February 2, 2022

Lexis Nexis - Practical Guidance

,

December 16, 2021

Hodgson Russ Cannabis & Hemp and Labor & Employment Alert

,

November 4, 2021

Hodgson Russ Cannabis & Hemp Alert

,

October 26, 2021

Hodgson Russ Cannabis & Hemp Alert

,

September 2, 2021

CannaBuff Magazine

,

August 2021

Hodgson Russ Hemp & Medical Cannabis Alert

,

May 25, 2021

CannaBuff

,

April 27, 2021
Presentations & Events
April 20, May 25, and June 22, 2023