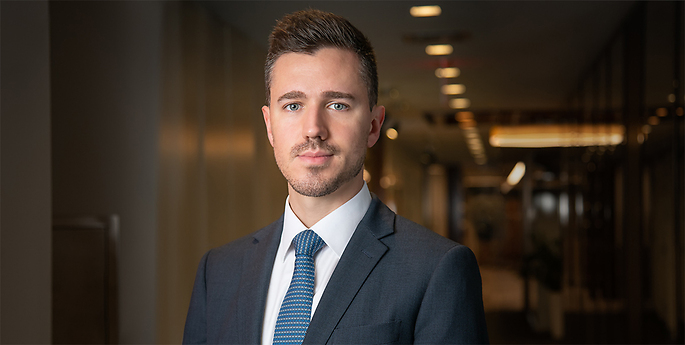 Matthew K. Parker
Senior Associate
Practices & Industries
Admissions
New York
U.S. District Court, Eastern District of New York
U.S. District Court, Southern District of New York
U.S. District Court, Western District of New York
U.S. Court of Appeals, Second Circuit
Education
The Ohio State University, B.A., magna cum laude
University at Buffalo School of Law, J.D., magna cum laude
Matthew focuses his practice on business litigation and employment litigation matters in New York City and throughout New York State. He has extensive experience handling a variety of business and contract litigation matters on behalf of financial institutions and commercial clients, including claims involving breach of contract, breach of fiduciary duty, shareholder disputes, tortious interference with contract, and other business torts. Matthew's commercial practice also involves defense and prosecution of intellectual property claims, including trade secret and unlawful competition claims.
Matthew's employment litigation practice involves representing employers in discrimination and retaliation claims, employment contract litigation, wage and hour class actions, and claims involving restrictive covenants and non-compete clauses.
As a member of the Cannabis & Hemp Practice, Matthew advises clients on a range of issues affecting the cultivation, processing, distribution, and sale of cannabis and hemp products. Matthew counsels businesses seeking licenses to operate within the industry, as well as clients seeking to do business with the cannabis industry, focusing on regulatory compliance and risk minimization.
Matthew is also a member of the Product Liability & Complex Tort Practice, which represents businesses in complex, mass tort and products liability actions.
Honors
Listed, Best Lawyers in America Ones to Watch (Product Liability Litigation - Plaintiffs) 2024
Recipient of the 2022 Pro Bono Award from the United States District Court for the Western District of New York
Listed, Upstate New York Super Lawyers Rising Stars (Business Litigation) 2017 - 2023
Managing editor, Buffalo Human Rights Law Review, 2013-14
CALI Award for Insurance Law, 2013
Best Advocate, Trial Technique, 2013
Press Releases
Hodgson Russ Press Release

,

August 23, 2022

Hodgson Russ Press Release

,

August 20, 2021

Hodgson Russ Press Release

,

September 8, 2020

Hodgson Russ Press Release

,

January 17, 2020

Press Release

,

August 12, 2019

Press Release

,

August 20, 2018

Press Release

,

September 6, 2017
Publications
Hodgson Russ Home Care and Healthcare Alert

,

May 16, 2023

Hodgson Russ Cannabis & Hemp Alert

,

March 29, 2023

Hodgson Russ Home Care Alert

,

December 20, 2022

Law360

,

November 21, 2022

Hodgson Russ Cannabis & Hemp Alert

,

October 19, 2022

Hodgson Russ Home Care Alert

,

August 19, 2022

Hodgson Russ Cannabis and Hemp Alert 

,

July 7, 2022

Hodgson Russ Product Liability & Complex Tort Alert

,

May 10, 2022

Hodgson Russ Home Care Alert

,

May 5, 2022

Hodgson Russ Product Liability Litigation & Legislation Quarterly Update

,

May 2022

Hodgson Russ Product Liability Litigation & Legislation Quarterly Update

,

January/February 2022

Hodgson Russ Cannabis & Hemp Alert

,

February 2, 2022

Hodgson Russ Cannabis & Hemp and Labor & Employment Alert

,

November 4, 2021

Hodgson Russ Cannabis & Hemp Alert

,

October 26, 2021

Hodgson Russ Cannabis & Hemp Alert

,

September 2, 2021

CannaBuff Magazine

,

August 2021

Hodgson Russ Hemp & Medical Cannabis Alert

,

May 25, 2021

CannaBuff

,

April 27, 2021

Hodgson Russ Hemp and Medical Cannabis Alert

,

March 29, 2021

Hodgson Russ Hemp and Medical Cannabis Alert

,

March 23, 2021

Hodgson Russ Hemp and Medical Cannabis Alert

,

February 24, 2021

Hodgson Russ Hemp & Medical Cannabis and Agriculture Alert

,

February 10, 2021

Hodgson Russ Hemp and Medical Cannabis Alert

,

February 8, 2021

Hodgson Russ Business Litigation Alert

,

June 23, 2020

Hodgson Russ Business Litigation and Bankruptcy & Restructuring Alert

,

June 22, 2020

Hodgson Russ Business Litigation Alert

,

May 22, 2020

Hodgson Russ OSHA and Business Litigation Alert

,

May 13, 2020

Hodgson Russ Business Litigation Alert

,

April 22, 2020

Hodgson Russ Business Litigation and Securities Regulation & Corporate Compliance Alert

,

April 22, 2020

Hodgson Russ Business Litigation Alert

,

April 15, 2020

Hodgson Russ Home Care Alert

,

April 9, 2020

Hodgson Russ Business Litigation Alert

,

April 9, 2020

Hodgson Russ Healthcare Alert

,

April 6, 2020

Hodgson Russ Home Care Alert

,

April 4, 2020

Hodgson Russ Home Care Alert

,

May 7, 2019

Hodgson Russ Home Care Alert

,

May 7, 2019

Hodgson Russ Home Care Alert

,

May 7, 2019

Hodgson Russ Home Care Alert

,

May 7, 2019

Hodgson Russ Home Care Alert

,

May 7, 2019

Hodgson Russ Home Care Alert

,

May 7, 2019

Home Care Alert

,

April 1, 2019

Hodgson Russ Home Care Alert

,

March 29, 2019

Hodgson Russ Home Care Alert

,

March 26, 2019

Hodgson Russ Home Care Alert

,

March 12, 2019

Hodgson Russ Home Care Alert

,

March 8, 2019

Home Care Alert

,

February 28, 2019

Home Care Alert

,

February 19, 2019

Home Care Alert

,

January 29, 2019

Home Care Alert

,

January 23, 2019

Home Care Alert

,

January 16, 2019

Home Care Alert

,

January 9, 2019

Home Care Alert

,

December 26, 2018

Home Care Alert

,

December 18, 2018

Home Care Alert

,

December 18, 2018

Home Care Alert

,

December 11, 2018

Home Care Alert

,

November 5, 2018

Home Care Alert

,

October 25, 2018

Home Care Alert

,

October 23, 2018

Home Care Alert

,

October 8, 2018

Home Care Alert

,

October 8, 2018

Home Care Alert

,

September 27, 2018

Home Care Alert

,

September 26, 2018

Home Care Alert

,

September 21, 2018

Home Care Alert

,

August 24, 2018

Home Care Alert

,

August 8, 2018

Home Care Alert

,

August 6, 2018

Home Care Alert

,

July 27, 2018

Home Care Alert

,

July 27, 2018

Home Care Alert

,

July 19, 2018

Home Care Alert

,

July 12, 2018

Home Care Alert

,

June 29, 2018

Home Care Alert

,

May 31, 2018

Home Care Alert

,

May 29, 2018

Home Care Alert

,

May 22, 2018

Home Care Alert

,

May 14, 2018

Home Care Alert

,

May 10, 2018

Home Care Alert

,

April 2, 2018

Home Care Alert

,

March 7, 2018

Home Care Alert

,

January 23, 2018

Home Care Alert

,

January 22, 2018

Home Care Alert

,

December 19, 2017

Home Care Alert

,

December 19, 2017

Home Care Alert

,

December 14, 2017

Home Care Alert

,

December 13, 2017
Presentations & Events
605 Third Avenue, Suite 2300, New York City, NY 10158

,

November 29, 2023
Professional Associations
New York State Bar Association
Bar Association of Erie County
Community & Pro Bono
Class director, Nichols School Alumni Association
Volunteer Tutor, Our Lady of Hope Home School