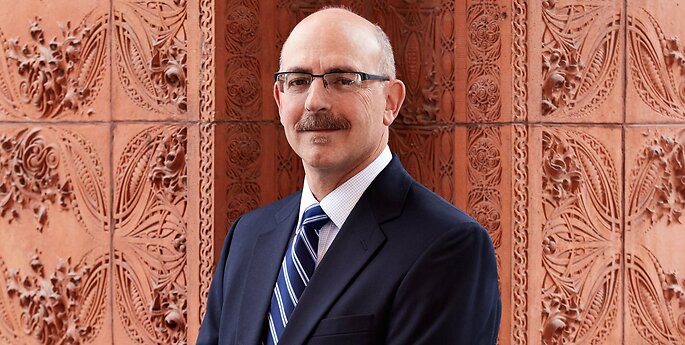 Practices & Industries
Admissions
New York
U.S. District Court, Western District of New York
Education
Buffalo State, State University of New York, B.A., summa cum laude
University at Buffalo School of Law, J.D., magna cum laude
Rick joined Hodgson Russ as an associate in 1983 and became a partner in 1990. He concentrated his practice on complex environmental matters and the law governing lawyers. Rick also served the firm as its co-general counsel and loss prevention partner, and as a member of its board of directors and compensation committee for more than two decades. He served as the firm's managing partner from 2016 to February 2022.
Honors
Listed, Best Lawyers in America (Environmental Law) 2014 - 2024
Listed, Upstate New York Super Lawyers (Environmental) 2007 - 2023
Buffalo Business First's Power 250, 2019 - 2021
Listed, Buffalo Business First/Buffalo Law Journal's Legal Elite of Western New York Legal Leader, 2017 - 2020
Listed, Buffalo Environmental Law "Lawyer of the Year" in Best Lawyers in America, 2018, 2020
Listed, Chambers USA: America's Leading Lawyers for Business
Buffalo Business First's Who's Who in Law (Environmental Law)
Experience
Ongoing representation of an international agricultural chemical company in a multiple operable unit RCRA corrective action matter with the NYSDEC and USEPA, including the cleanup and management of a number of off-site locations.
Ongoing representation of an industrial manufacturer with the negotiation of, and compliance with, numerous Federal and State Consent Orders, as well as a Consent Decree filed in Federal District Court involving the United States Department of Justice and the New York State Attorney Generals' Office. Responsibilities have included regular interaction with government agency representatives, the client, and the engaged third-party consultants in managing compliance with all applicable obligations.
Hodgson Russ has represented major industrial manufacturers in transferring environmental liabilities and related legal exposures and obligations to financially sound third parties for a fixed sum. In such cases, the client has monetized the large and uncertain risks arising from the need to remediate legacy contamination and the associated tort, reuse, and redevelopment risks. Each transfer involved the use of sophisticated environmental insurance products and other risk transfer assessments, allowed the client to remove the reserves established for those liabilities and exposures, and ultimately resulted in the successful redevelopment of the contaminated property.
Hodgson Russ represents a private manufacturer of raw materials against claims asserted by the New York State Department of Environmental Conservation and U.S. Environmental Protection Agency regarding various environmental requirements and statutes.
A victory in federal court by a team of Hodgson Russ attorneys put an end to a seven-year lawsuit and extinguished the risk of our client paying millions in damages and other costs arising from claims of federal and state environmental law violations. The matter involved a facility owned and operated by our client, a manufacturer. Over the course of decades of operation, our client's facility became heavily contaminated with chemical residues. Some of those residues migrated off site into the surrounding community. Hodgson Russ represented this manufacturer in connection with an administrative order on consent entered into with the U.S. Environmental Protection Agency (EPA) and the State Department of Environmental Conservation under the Resource Conservation and Recovery Act (RCRA). Our client is performing the work required by the administrative order and is making extensive efforts to benefit the community. Despite our client's efforts, four families from the surrounding community sued the manufacturer in federal court under the citizen suit provisions of several federal statutes, claiming that our client was not complying with the requirements of various environmental statutes and that EPA was not effectively enforcing them. The families asked the federal court to intervene and to order our client to do more remediation faster. They also asserted claims for personal injury and property damage. The Hodgson Russ team successfully defeated the plaintiffs' claims in court. In his decision, the presiding judge granted our motion to disqualify the plaintiffs' expert and for summary judgment. The case was dismissed entirely — freeing our client to focus on completing the corrective action program without judicial intervention and to remove a substantial liability reserve from its books. Subsequent efforts by the plaintiffs to revive the suit have also been defeated.
Hodgson Russ represented a Fortune 1000 company in the acquisition of the interests and real property of a privately held specialty parts manufacturer with locations on four continents. Our responsibilities included environmental due diligence review, the management of various environmental consultants, risk analyses related to various acquired properties, and contract drafting and negotiation.
Hodgson Russ represented a premier U.S. hardwood lumber company in its acquisition of a privately held hardwood company with 11 saw mills in four mid-Atlantic and southern states. The acquisition involved extensive environmental, real estate, tax, and zoning issues at all locations. Our attorneys successfully structured the complex deal, including determining the type of purchase to pursue and its implementation. This acquisition required the client to obtain a new credit facility to finance the transaction. For this same client, Hodgson Russ performs five to six acquisitions of varying size and complexity every year. Hodgson Russ represented the family-owned specialty chemical manufacturer in connection with the sale of the company to a large private-equity fund. The transition included the sale in both the U.S. and Europe and included the use of representation and warranty insurance in connection with the purchase agreement.
Hodgson Russ represented a large, multinational wood treatment corporation in its sale to certain funds managed by a large global investment private equity fund. Responsibilities included overseeing seller-side environmental due diligence, the management of various environmental consultants, contract drafting and negotiation, and other related responsibilities.
In the News
Buffalo Business First

,

February 1, 2022

The Buffalo News

,

August 28, 2020

Buffalo Business First

,

February 26, 2019

Buffalo Business First

,

February 19, 2018

Buffalo Law Journal

,

August 8, 2016

Buffalo Law Journal

,

February 22, 2016

Buffalo Law Journal

,

February 1, 2016

Group Builds Schools in Africa

Buffalo Law Journal

,

May 18, 2008
Press Releases
Hodgson Russ Press Release

,

August 23, 2022

Hodgson Russ Press Release

,

August 19, 2022

Hodgson Russ Press Release

,

August 20, 2021

Hodgson Russ Press Release

,

August 19, 2021

Hodgson Russ Press Release

,

September 8, 2020

Hodgson Russ Press Release

,

August 20, 2020

Hodgson Russ Press Release

,

September 23, 2019

Hodgson Russ Press Release

,

August 20, 2019

Press Release

,

August 12, 2019

Press Release

,

September 24, 2018

Press Release

,

August 20, 2018

Press Release

,

August 15, 2018

Press Release

,

February 7, 2018

Press Release

,

September 6, 2017

Press Release

,

August 15, 2017

Press Release

,

August 31, 2016

Hodgson Russ Press Release

,

August 18, 2016

Hodgson Russ Press Release

,

February 1, 2016

Press Release

,

August 19, 2015

Press Release

,

August 17, 2015

Press Release

,

August 14, 2014
Publications
Hodgson Russ Environmental Alert

,

March 22, 2022

Hodgson Russ Environmental Alert

,

November 5, 2021

Hodgson Russ Environmental Alert

,

November 2, 2021

Hodgson Russ Environmental Alert

,

October 20, 2021

Hodgson Russ Environmental and Renewable Energy Alert

,

March 24, 2021

Hodgson Russ Environmental and Renewable Energy Alert

,

August 20, 2020

Hodgson Russ Environmental Alert

,

August 12, 2020

Hodgson Russ Environmental Alert

,

August 6, 2020

Hodgson Russ Environmental Alert

,

July 1, 2020

Hodgson Russ Environmental Alert

,

April 27, 2020

Hodgson Russ Environmental Alert

,

April 6, 2020

Hodgson Russ Environmental and Brownfield Redevelopment Alert

,

April 1, 2020

Hodgson Russ Environmental Alert

,

March 27, 2020

Hodgson Russ Environmental Alert

,

March 26, 2020

Hodgson Russ Environmental Alert

,

November 27, 2019

Hodgson Russ Environmental, Municipal, and Public Finance Alert

,

November 12, 2019

Hodgson Russ Environmental Alert

,

April 22, 2019

Increased Regulatory Requirements and Water Infrastructure Investment Likely in 2019

Environmental Alert

,

December 21, 2018

Hodgson Russ Alert

,

October 24, 2016

Environment & Energy Alert

,

March 27, 2012
Presentations & Events
New York Hilton Midtown - NYC

,

January 30, 2020

Albright-Knox Art Gallery's Auditorium, 1285 Elmwood Avenue, Buffalo, NY

,

June 2, 2016

Buffalo, NY

,

March 30, 2011
Professional Associations
New York State Bar Association: Environmental Law Section
Trustee: United States Law Firm Group
Community & Pro Bono
Founding Member & Co-Chair, Board of Directors: EduNations, Inc.
Member, Board of Directors: Sierra Leone Alliance of Western New York
Member, Board of Directors: Invest Buffalo Niagara
Member, Steering Committee: First Tee Foundation of Western New York