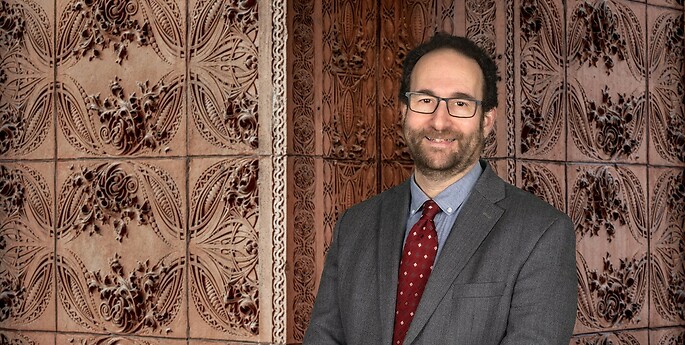 Practices & Industries
Admissions
New York
U.S. District Court, Eastern District of New York
U.S. District Court, Northern District of New York
U.S. District Court, Southern District of New York
U.S. District Court, Western District of New York
U.S. Court of Appeals, Second Circuit
Education
Swarthmore College, B.A., high honors
Stanford University , Ph.D.
New York University School of Law, J.D., cum laude
Joshua has a broad- based practice that combines his extensive experience in business litigation with a sharp focus on healthcare compliance.
Joshua has successfully defended dozens of matters in both state and federal courts, obtaining summary judgment in numerous discrimination cases, among other favorable results. As a litigator, he concentrates his practice in employment-related disputes, including discrimination, wage-and-hour and non-compete litigation, but also has experience with Article 78 proceedings, commercial disputes, public accommodations accessibility litigation under the Americans with Disabilities Act, municipal law matters, freedom-of-information litigation and tax-assessment review challenges as well as appellate practice and international cross-border litigation. Joshua has tried multiple cases and argued numerous appeals before both the New York Appellate Division and the U.S. Court of Appeals for the Second Circuit.
Joshua draws on his perspective as a litigator in assisting health care providers to navigate the ever-evolving regulatory and compliance challenges facing their industry. He has counseled hospitals, medical practices, skilled nursing facilities, home health care agencies, pharmacies and management services organizations on a range of issues, including the Stark Law, compliance under the Anti-Kickback Statute, liability risks under the False Claims Act, reimbursement claims, credentialing, physician contracts, hospital/physician integration and the corporate practice of medicine.
Combining rigorous analysis of legal risks with an appreciation of the realities of business, Joshua strives to find practical, efficient solutions that further his client's objectives.
Honors
Listed, Best Lawyers in America (Litigation - Labor and Employment) 2024
Bar Association of Erie County, Volunteer Lawyers Project: Law Firm Pro Bono Coordinator of the Year Award, 2014
Pro Bono Honor Roll, The United States District Court for the Western District of New York, 2022
In the News
Tax Notes State

,

May 8, 2023

2nd Circ. Affirms Buffalo PD Win in White Cop's Bias Suit

Law360

,

February 28, 2013
Press Releases
Press Release

,

May 8, 2015

Press Release

,

October 6, 2014

Press Release

,

August 14, 2014
Publications
Hodgson Russ Healthcare Alert 

,

September 7, 2023

Hodgson Russ Home Care and Healthcare Alert

,

May 16, 2023

Hodgson Russ Real Property Tax Assessment & Eminent Domain Alert 

,

May 10, 2023

Hodgson Russ Food & Beverage Alert

,

May 3, 2023

Hodgson Russ Food & Beverage Alert

,

March 20, 2023

Hodgson Russ Food & Beverage Alert

,

January 4, 2023

Hodgson Russ Municipal Alert

,

November 28, 2022

Hodgson Russ Food and Beverage Alert

,

September 12, 2022

Hodgson Russ Canada-U.S. Cross-Border and Cybersecurity & Privacy Alert

,

July 7, 2022

Hodgson Russ Municipal Alert

,

May 16, 2022

Hodgson Russ Renewable Energy & Municipal Alert

,

May 3, 2022

Hodgson Russ Municipal and Education Alert

,

April 19, 2022

Hodgson Russ OSHA and Healthcare Alert

,

March 28, 2022

Hodgson Russ Healthcare Alert

,

January 6, 2022

Hodgson Russ Healthcare and Labor & Employment Alert

,

November 5, 2021

Hodgson Russ Healthcare and Labor & Employment Alert

,

November 2, 2021

Hodgson Russ Municipal Alert

,

October 29, 2021

Hodgson Russ Healthcare and Labor & Employment Alert

,

October 13, 2021

Coronavirus Guidance Update - Healthcare

,

August 27, 2021

Hodgson Russ Healthcare Alert

,

August 25, 2021

Hodgson Russ Healthcare Alert

,

January 19, 2021

Hodgson Russ Healthcare Alert

,

January 19, 2021

Hodgson Russ Healthcare Alert

,

November 11, 2020

New York Law Journal

,

October 7, 2020

Hodgson Russ Healthcare and Cybersecurity & Privacy Alert

,

August 14, 2020

Hodgson Russ Municipal and Education Alert

,

August 7, 2020

Hodgson Russ Healthcare Alert

,

June 25, 2020

Hodgson Russ Business Litigation Alert

,

June 23, 2020

Hodgson Russ Business Litigation and Bankruptcy & Restructuring Alert

,

June 22, 2020

Hodgson Russ Municipal Alert

,

June 22, 2020

Hodgson Russ Class Action Litigation Alert

,

May 29, 2020

Hodgson Russ Business Litigation Alert

,

May 22, 2020

Hodgson Russ OSHA and Business Litigation Alert

,

May 13, 2020

Hodgson Russ Healthcare Alert

,

May 11, 2020

Hodgson Russ Healthcare Alert

,

May 6, 2020

Hodgson Russ Municipal Alert

,

May 5, 2020

Hodgson Russ Healthcare Alert

,

April 24, 2020

Hodgson Russ Business Litigation Alert

,

April 22, 2020

Hodgson Russ Business Litigation and Securities Regulation & Corporate Compliance Alert

,

April 22, 2020

Hodgson Russ Healthcare Alert

,

April 21, 2020

Hodgson Russ Business Litigation Alert

,

April 15, 2020

Hodgson Russ Municipal Alert

,

April 14, 2020

Hodgson Russ Municipal Alert

,

April 10, 2020

Hodgson Russ Healthcare Alert

,

April 10, 2020

Hodgson Russ Business Litigation Alert

,

April 9, 2020

Hodgson Russ Healthcare Alert

,

April 9, 2020

Hodgson Russ Healthcare Alert

,

April 8, 2020

Hodgson Russ Education, Municipal & Public Finance Alert

,

April 8, 2020

Hodgson Russ Healthcare & OSHA Alert

,

April 2, 2020

Hodgson Russ Public Finance Alert

,

April 1, 2020

Hodgson Russ Healthcare Alert

,

March 31, 2020

Hodgson Russ Municipal Alert

,

March 30, 2020

Hodgson Russ Healthcare Alert

,

March 24, 2020

Hodgson Russ Healthcare Alert

,

March 20, 2020

Hodgson Russ Healthcare Alert

,

March 18, 2020

Hodgson Russ Municipal Alert

,

March 17, 2020

Hodgson Russ Municipal Alert

,

March 16, 2020

Hodgson Russ Healthcare Alert

,

March 9, 2020

Hodgson Russ Municipal Alert

,

January 6, 2020

Hodgson Russ Healthcare Alert

,

November 6, 2019

Hodgson Russ Healthcare Alert

,

November 6, 2019

Hodgson Russ Healthcare Alert

,

November 6, 2019

Hodgson Russ Municipal and Education Alert

,

October 21, 2019

Hodgson Russ Municipal, Real Property Tax Assessment, and Telecommunications Alert

,

September 20, 2019

New York Law Journal, 2019 Edition

,

2019

Labor & Employment and Employment Litigation Alert

,

February 27, 2018

Employers' Advisor Blog Archives

,

December 29, 2015

Employers' Advisor Blog Archives

,

October 14, 2015

Employers' Advisor Blog Archives

,

January 29, 2015

Employers' Advisor Blog Archives

,

December 9, 2014

Employers' Advisor Blog Archives

,

December 3, 2014

Employers' Advisor Blog Archives

,

August 12, 2014

Employers' Advisor Blog Archives

,

July 2, 2014

Employers' Advisor Blog Archives

,

June 10, 2014

Employers' Advisor Blog Archives

,

February 20, 2014

Labor & Employment Alert

,

September 25, 2013

Employment Litigation Alert

,

June 26, 2013

Lawyers Weekly

,

May 10, 2013

Talk of the Towns

,

April 26, 2013

Labor & Employment Alert

,

April 26, 2013

New York--Ad Valorem Taxes Against Utility Properties

Practical US/Domestic Tax Strategies

,

September 2006

Municipal Alert

,

May 19, 2006

U.S. Federal Courts Have Broad Authority to Grant Discovery in Aid of Canadian Litigation

Lawyers Weekly

,

December 17, 2004

Lawyers Weekly

,

December 12, 2003
Presentations & Events
Buffalo, NY

,

May 22, 2014

Buffalo, NY

,

May 16, 2013

Buffalo, NY

,

May 17, 2012
Professional Associations
American Health Lawyers Association
New York State Bar Association: Health Law Section
Bar Association of Erie County
Community & Pro Bono
Member, Board of Trustees: Tapestry Charter School