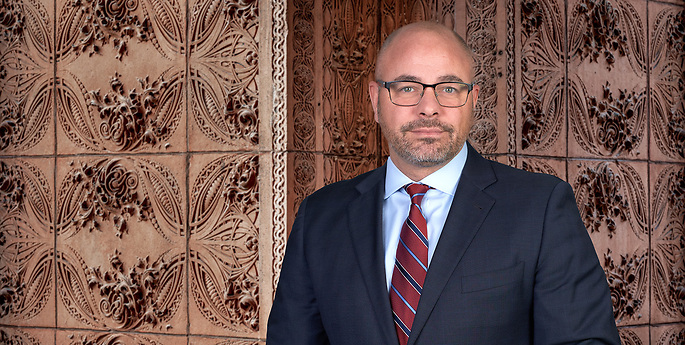 Ryan J. Lucinski
Partner; Co-Leader of Product Liability & Complex Tort Practice
Practices & Industries
Admissions
New York
U.S. Courts of Appeals for the Second and Tenth Circuits
U.S. District Courts for the Western and Northern Districts of New York and

District of Colorado
Education
University at Buffalo, B.A.
University at Buffalo School of Law, J.D., magna cum laude
Ryan is Co-Chair of the firm's Product Liability & Complex Tort Practice Group. He is an accomplished litigator and trial lawyer who concentrates his practice in three major areas. First, he represents manufacturers and suppliers defending product liability lawsuits in state and federal courts throughout New York and the United States. Ryan has litigated numerous catastrophic injury, wrongful death, and property damage claims through to successful completion involving a variety of products, including agricultural and construction equipment, aerial devices, turf and lawn care products, power tools, medical devices and equipment, industrial equipment, consumer goods, and food products. Ryan also advises these clients on risk mitigation policies and procedures and he has extensive experience guiding clients through product recalls with government agencies, like the CPSC and NHTSA.
Second, Ryan represents a variety of businesses and industries in commercial litigation. He has handled cases involving dealer and supply agreements, license agreements, employment and shareholder agreements, and other forms of contract and business tort claims. He successfully represented a software company in California federal court against an insurance company's claim of a failed system implementation alleging commercial damages in the tens of millions of dollars. Ryan has also developed a particular expertise in litigating indemnity and insurance claims for his business and insurance clients, as they may relate to first or third-party claims for damages.

Third, Ryan defends public and private sector employers in state and federal courts in matters alleging discrimination, harassment, and negligence claims. He also counsels these clients on employment matters involving the use of social media, rights of privacy and publicity, and internal investigations.
Honors
Listed, Best Lawyers in America (Commercial Litigation) 2024
Listed, Best Lawyers in America (Personal Injury Litigation - Defendants) 2023-2024
Listed, Best Lawyers in America (Product Liability Litigation - Defendants) 2018 - 2024
Listed, Upstate New York Super Lawyers, (Personal Injury - Products: Defense) 2013 - 2023
Former Publications Editor, Buffalo Law Review
In the News
The Buffalo News

,

May 10, 2021

IndustryWeek

,

June 25, 2019
Press Releases
Hodgson Russ Press Release

,

August 23, 2022

Hodgson Russ Press Release

,

August 19, 2022

Hodgson Russ Press Release

,

August 20, 2021

Hodgson Russ Press Release

,

August 19, 2021

Hodgson Russ Press Release

,

September 8, 2020

Hodgson Russ Press Release

,

August 20, 2020

Hodgson Russ Press Release

,

August 20, 2019

Press Release

,

August 12, 2019

Press Release

,

August 20, 2018

Press Release

,

August 15, 2018

Press Release

,

September 6, 2017

Press Release

,

August 15, 2017

Press Release

,

August 31, 2016

Press Release

,

August 19, 2015

Press Release

,

December 30, 2014

Press Release

,

August 14, 2014

Press Release

,

August 14, 2014
Publications
Hodgson Russ Food & Beverage Alert

,

May 3, 2023

Hodgson Russ Food & Beverage Alert

,

March 20, 2023

Hodgson Russ Product Liability & Complex Tort Client Alert

,

January 31, 2023

Hodgson Russ Food & Beverage Alert

,

January 4, 2023

Hodgson Russ Municipal Alert

,

November 28, 2022

Hodgson Russ Food and Beverage Alert

,

September 12, 2022

Hodgson Russ Business Litigation Alert

,

May 25, 2022

Hodgson Russ Municipal Alert

,

May 16, 2022

Hodgson Russ Product Liability & Complex Tort Alert

,

May 10, 2022

Hodgson Russ Renewable Energy & Municipal Alert

,

May 3, 2022

Hodgson Russ Product Liability Litigation & Legislation Quarterly Update

,

May 2022

Hodgson Russ Municipal and Education Alert

,

April 19, 2022

Hodgson Russ Product Liability Litigation & Legislation Quarterly Update

,

January/February 2022

Hodgson Russ Municipal Alert

,

October 29, 2021

Hodgson Russ Media & First Amendment Alert

,

July 22, 2021

Hodgson Russ Education and Media & First Amendment Alert

,

June 23, 2021

Hodgson Russ Media and First Amendment Alert

,

June 21, 2021

Hodgson Russ Food & Beverage Alert

,

May 21, 2021

Hodgson Russ Media and First Amendment Alert

,

May 14, 2021

Hodgson Russ Food and Beverage Alert

,

May 10, 2021

Hodgson Russ Food and Beverage Alert

,

April 30, 2021

Hodgson Russ Media and First Amendment Alert

,

April 20, 2021

Hodgson Russ Food and Beverage Alert

,

April 19, 2021

Hodgson Russ Media and First Amendment Alert

,

March 29, 2021

Hodgson Russ Torts, Insurance and Products Liability Alert

,

March 25, 2021

Hodgson Russ COVID-19 Litigation and Employment Action Team Alert

,

March 25, 2021

Hodgson Russ Media and First Amendment Alert

,

March 22, 2021

Hodgson Russ COVID-19 Litigation and Employment Action Team Alert

,

March 11, 2021

Hodgson Russ COVID-19 Litigation and Employment Action Team Alert

,

March 10, 2021

Hodgson Russ Food & Beverage Alert

,

March 9, 2021

Hodgson Russ Media and First Amendment Alert

,

March 3, 2021

Hodgson Russ Food & Beverage Alert

,

February 25, 2021

Hodgson Russ Media and First Amendment Alert

,

February 24, 2021

Hodgson Russ Food & Beverage Alert

,

February 17, 2021

Hodgson Russ COVID-19 Litigation and Employment Action Team Alert

,

February 8, 2021

COVID-19 Litigation and Employment Action Team Alert

,

January 29, 2021

Hodgson Russ COVID-19 Litigation & Employment Action Team Alert

,

January 21, 2021

Hodgson Russ Media & First Amendment Alert

,

January 12, 2021

Hodgson Russ Media & First Amendment Alert

,

January 7, 2021

Hodgson Russ COVID-19 Litigation & Employment Action Team Alert

,

November 4, 2020

Hodgson Russ COVID-19 Litigation & Employment Action Team Alert

,

October 15, 2020

Hodgson Russ COVID-19 Litigation & Employment Action Team Alert

,

October 12, 2020

Hodgson Russ Food & Beverage Alert

,

September 23, 2020

Hodgson Russ COVID-19 Litigation & Employment Action Team Alert

,

September 10, 2020

Hodgson Russ Food & Beverage Alert

,

August 31, 2020

Hodgson Russ Municipal and Education Alert

,

August 7, 2020

Hodgson Russ COVID-19 Litigation and Employment Action Team Alert

,

August 6, 2020

Hodgson Russ COVID-19 Litigation and Employment Action Team Alert

,

July 28, 2020

Hodgson Russ COVID-19 Litigation & Employment Action Team Alert

,

July 14, 2020

Hodgson Russ Media & First Amendment Alert

,

July 9, 2020

Hodgson Russ Business Litigation Alert

,

June 23, 2020

Hodgson Russ Municipal Alert

,

June 22, 2020

Hodgson Russ Business Litigation and Bankruptcy & Restructuring Alert

,

June 22, 2020

Hodgson Russ COVID-19 Litigation & Employment Action Team Alert

,

June 15, 2020

Hodgson Russ Media & First Amendment Alert

,

June 9, 2020

Hodgson Russ Business Litigation Alert

,

May 22, 2020

Hodgson Russ Renewable Energy and Construction Alert

,

May 15, 2020

Hodgson Russ OSHA and Business Litigation Alert

,

May 13, 2020

Hodgson Russ Municipal Alert

,

May 5, 2020

Hodgson Russ Business Litigation and Securities Regulation & Corporate Compliance Alert

,

April 22, 2020

Hodgson Russ Media & First Amendment Alert

,

April 22, 2020

Hodgson Russ Business Litigation Alert

,

April 22, 2020

Hodgson Russ Media & First Amendment Alert

,

April 20, 2020

Hodgson Russ Torts, Insurance & Products Liability Alert

,

April 17, 2020

Hodgson Russ Business Litigation Alert

,

April 15, 2020

Hodgson Russ Municipal Alert

,

April 14, 2020

Hodgson Russ Municipal Alert

,

April 10, 2020

Hodgson Russ Business Litigation Alert

,

April 9, 2020

Hodgson Russ Construction Alert

,

April 9, 2020

Hodgson Russ Education, Municipal & Public Finance Alert

,

April 8, 2020

Hodgson Russ Food & Beverage Alert

,

April 7, 2020

Hodgson Russ Food & Beverage Practice Alert

,

April 3, 2020

Hodgson Russ Public Finance Alert

,

April 1, 2020

Hodgson Russ Municipal Alert

,

March 30, 2020

Hodgson Russ Construction Alert

,

March 27, 2020

Hodgson Russ Media & First Amendment Alert

,

March 25, 2020

Hodgson Russ Municipal Alert

,

March 17, 2020

Hodgson Russ Municipal Alert

,

March 16, 2020

Hodgson Russ Food & Beverage Alert

,

March 16, 2020

Hodgson Russ Municipal Alert

,

January 6, 2020

Hodgson Russ Municipal and Education Alert

,

October 21, 2019

Hodgson Russ Media Law & First Amendment Alert

,

June 5, 2019

Hodgson Russ Media Law & First Amendment Alert

,

May 30, 2019

Hodgson Russ Media Law & First Amendment Alert

,

May 3, 2019

Hodgson Russ Media Law & First Amendment Alert

,

March 26, 2019

Media Law & First Amendment Alert

,

February 28, 2019

Media Law & First Amendment Alert

,

February 7, 2019

Media Law & First Amendment Alert

,

November 19, 2018

Media Law & First Amendment Alert

,

November 5, 2018

Media Law & First Amendment Alert

,

August 27, 2018

Media Law & First Amendment Alert

,

April 13, 2018

Labor & Employment and Employment Litigation Alert

,

February 27, 2018
Presentations & Events
Millennium Hotel Buffalo

,

January 18, 2019
Professional Associations
New York State Bar Association
Bar Association of Erie County
Defense Research Institute; Marketing Liaison, Manufacturer's Risk SLG
UB Law Alumni Association, Class of 2005
Community & Pro Bono
Pro Se Assistance Program, W.D.N.Y.
Director/Officer, Horizon Health Services and Horizon Village
Past Director/Officer, Crisis Services