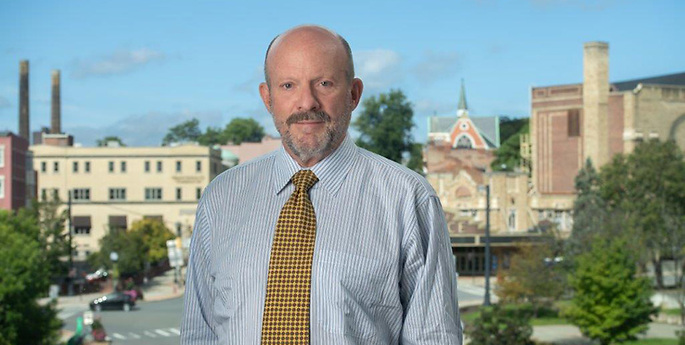 Practices & Industries
Admissions
New York State
U.S. District Court, Northern District of New York
U.S. Court of Appeals, District of Columbia
Education
New York University, B.A. Economics, cum laude
Columbia University School of Law, J.D.
John is a seasoned practitioner with extensive experience in all areas of energy infrastructure development, permitting and regulation, environmental law and permitting, administrative law, government procurement laws, compliance and regulatory matters, and appellate litigation.
He is active in licensing renewable energy, electricity transmission and electricity storage facilities, and also counsels suppliers, facility owners, developers, large consumers, investors and lenders in the energy and utility industries on regulatory and commercial strategies and compliance issues. John is routinely involved in environmental permitting, contract negotiation, business and property acquisition, federal and state regulatory compliance, tariff analysis, lender due diligence, and public policy development. He has assisted in the siting of electric and gas transmission lines, represented major commercial and industrial building owners/operators in electric rate cases, and negotiated electricity sale and purchase agreements and gas supply and transportation contracts. In addition, he appears before federal, state and municipal government bodies with responsibility for energy regulation and environmental protection, local land use and zoning , and New York State and federal courts.
John's extensive experience includes serving as assistant counsel to the New York State Public Service Commission and in the Office of Counsel to the Governor of the State of New York.
Honors
Listed, Chambers USA: America's Leading Lawyers for Business, (Energy) 2007
In the News
The East Hampton Star

,

September 7, 2023
Publications
Hodgson Russ Renewable Energy Alert 

,

August 8, 2023

Hodgson Russ Renewable Energy Alert 

,

December 14, 2022

Hodgson Russ Renewable Energy Alert

,

September 12, 2022

Hodgson Russ Renewable Energy and Real Estate Alert 

,

June 21, 2022

Hodgson Russ Renewable Energy & Municipal Alert

,

May 3, 2022

Hodgson Russ Renewable Energy and Municipal Alert

,

April 29, 2022

Hodgson Russ Environmental Alert

,

March 22, 2022

Hodgson Russ Renewable Energy Alert

,

February 3, 2022

Hodgson Russ Renewable Energy Alert

,

January 19, 2022

Hodgson Russ Renewable Energy Alert

,

November 30, 2021

Hodgson Russ SALT and Renewable Energy Alert

,

November 15, 2021

Hodgson Russ Renewable Energy Alert

,

November 9, 2021

Hodgson Russ Environmental Alert

,

November 5, 2021

Hodgson Russ Environmental Alert

,

November 2, 2021

Hodgson Russ Environmental Alert

,

October 20, 2021

Hodgson Russ Renewable Energy Alert

,

September 14, 2021

Hodgson Russ Renewable Energy Alert

,

September 8, 2021

Hodgson Russ Renewable Energy Alert

,

March 4, 2021

Hodgson Russ Renewable Energy Alert

,

October 23, 2020

Hodgson Russ Renewable Energy Alert

,

October 21, 2020

Hodgson Russ Renewable Energy Alert

,

October 19, 2020

Hodgson Russ Renewable Energy Alert

,

September 17, 2020
Professional Associations
New York State Bar Association
Community & Pro Bono
Shaker Museum, vice-chair Board of Trustees 2015-present
Shaker Swamp Conservancy, Trustee 2010-present