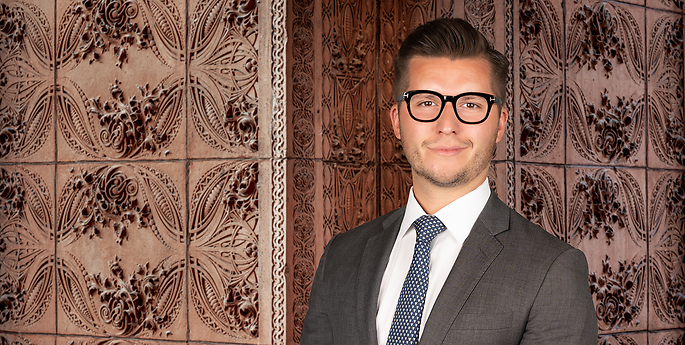 James Zawodzinski, J
r

.

Associate
Practices & Industries
Admissions
New York
Second Circuit Court of Appeals
U.S. District Court, Southern District of New York
U.S. District Court, Western District of New York
U.S. Bankruptcy Court, Southern District of New York
U.S. Bankrutpcy Court, Western District of New York
Education
Canisius College, B.A., Magna Cum Laude
University of Buffalo School of Law, J.D.
James J. Zawodzinski, Jr. is a member of the Business Litigation and Bankruptcy, Restructuring, and Commercial Litigation practices. His practice primarily focuses on matters arising from commercial-related disputes and the winding down of both privately and publicly held companies, including matters arising as a result of a looming "business divorce," company asset sales and transfers, and director, officer, and employee compensation. James has also counselled clients on significant commercial lease disputes, foreclosure and partition actions, partnership and joint venture issues, complex commercial landlord tenant disputes, and matters related to real estate development and land use, including the negotiation of significant judgments and liens held on real property.
James routinely represents debtors and creditors, including committees of creditors, secured and unsecured creditors, trustees, and lenders in cases arising out of Chapters 11, 12, and 13 of the Bankruptcy Code. James' broad experience stemming from his representation of both debtors and creditors alike provides the firm's clients with the immediate benefit of having an attorney who understands the client's position from both sides of the coin.
James is also a member of the Food & Beverage and Wine, Beer & Spirits practice groups and counsels clients on matters regarding compliance with the FDA's, USDA's, USPTO's, and various state agencies' requirements on food safety, food and beverage labeling and packaging, product development, and importing/exporting.
James also participated in the firm's Summer Associate program.
Honors
Buffalo Business First's

30 Under Thirty Award, 2022
Listed, Upstate New York Super Lawyers Rising Stars (Business Litigation) 2021 - 2022
Editor-in-Chief, Buffalo Journal on Gender, Law, and Social Policy
Buffalo Moot Court Board, Charles Desmond Competition Co-Chair and Award Recipient
Hon. John T. Elfvin Alumni Scholar
Order of the Barristers
Harry A. Rachlin Award for Real Property Law & Real Estate Transactions
In the News
Buffalo Business First

,

June 24, 2022
Press Releases
Hodgson Russ Press Release

,

August 23, 2022

Hodgson Russ Press Release

,

August 20, 2021

Press Release

,

March 8, 2019
Publications
Hodgson Russ Food and Beverage Alert

,

September 12, 2022

Hodgson Russ Food & Beverage Alert

,

May 21, 2021

Hodgson Russ Food and Beverage Alert

,

May 10, 2021

Hodgson Russ Food and Beverage Alert

,

April 30, 2021

Hodgson Russ Food and Beverage Alert

,

April 19, 2021

Hodgson Russ Food & Beverage Alert

,

March 9, 2021

Hodgson Russ Food & Beverage Alert

,

February 25, 2021

Hodgson Russ Food & Beverage Alert

,

February 17, 2021

Hodgson Russ Bankruptcy, Restructuring & Commercial Litigation Alert

,

November 11, 2020

Hodgson Russ Bankruptcy, Restructuring & Commercial Litigation Alert

,

October 23, 2020

Hodgson Russ Food & Beverage Alert

,

September 23, 2020

Hodgson Russ Food & Beverage Alert

,

August 31, 2020

Hodgson Russ Business Litigation Alert

,

June 23, 2020

Hodgson Russ Business Litigation and Bankruptcy & Restructuring Alert

,

June 22, 2020

Hodgson Russ Business Litigation Alert

,

May 22, 2020

Hodgson Russ OSHA and Business Litigation Alert

,

May 13, 2020

Hodgson Russ Business Litigation Alert

,

April 22, 2020

Hodgson Russ Business Litigation and Securities Regulation & Corporate Compliance Alert

,

April 22, 2020

Hodgson Russ Business Litigation Alert

,

April 15, 2020

Hodgson Russ Business Litigation Alert

,

April 9, 2020

Hodgson Russ Bankruptcy, Restructuring & Commercial Litigation Alert

,

April 8, 2020

Hodgson Russ Food & Beverage Alert

,

April 7, 2020

Hodgson Russ Food & Beverage Practice Alert

,

April 3, 2020

Hodgson Russ Food & Beverage Alert

,

March 16, 2020

Hodgson Russ Intellectual Property Alert

,

July 8, 2019
Presentations & Events
November 17, December 1 & 15, January 5 & 19
Community & Pro Bono
President, Homespace, Inc. Board of Directors
Board of Directors: Compass House