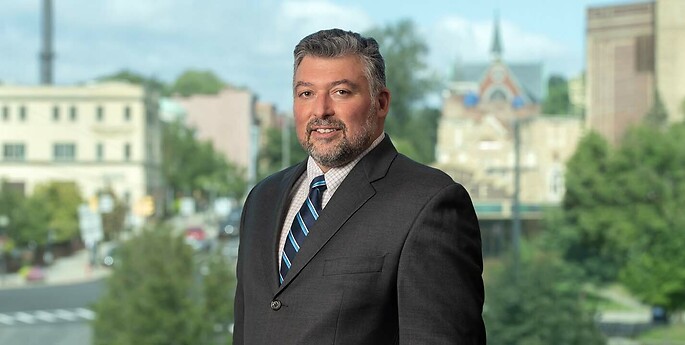 William F. McLaughlin
Partner
Practices & Industries
Admissions
District of Columbia
Massachusetts
New York State
Education
University of Massachusetts Lowell, College of Engineering, B.S.
The Catholic University of America, Columbus School of Law, J.D., magna cum laude
Focused on public utility regulation and energy matters, Bill counsels private and municipal clients regarding electric generation and transmission infrastructure development projects. He routinely represents clients in state permitting and siting proceedings, and coordinates with teams of interdisciplinary technical consultants and experts to evaluate environmental, land use, zoning and public relations issues in regard to project development and regulatory concerns. Bill regularly represents developers and energy service companies in proceedings before the New York State Public Service Commission, including tariff interpretations, preparing public comments, and appeals.
Bill also has significant experience representing property owners in judicial proceedings under New York State's Oil Spill Law, and with advising developers on the negotiation of engineering, procurement and construction contracts and long-term power purchase agreements. Prior to starting his legal career, Bill served for many years as an environmental engineer for the Massachusetts Department of Environmental Protection.
Publications
Hodgson Russ Renewable Energy Alert 

,

August 8, 2023

Hodgson Russ Renewable Energy Alert 

,

December 14, 2022

Hodgson Russ Renewable Energy Alert

,

September 12, 2022

Hodgson Russ Renewable Energy and Real Estate Alert 

,

June 21, 2022

Hodgson Russ Renewable Energy & Municipal Alert

,

May 3, 2022

Hodgson Russ Renewable Energy and Municipal Alert

,

April 29, 2022

Hodgson Russ Environmental Alert

,

March 22, 2022

Hodgson Russ Renewable Energy Alert

,

February 3, 2022

Hodgson Russ Renewable Energy Alert

,

January 19, 2022

Hodgson Russ Renewable Energy Alert

,

November 30, 2021

Hodgson Russ SALT and Renewable Energy Alert

,

November 15, 2021

Hodgson Russ Renewable Energy Alert

,

November 9, 2021

Hodgson Russ Environmental Alert

,

November 5, 2021

Hodgson Russ Environmental Alert

,

November 2, 2021

Hodgson Russ Environmental Alert

,

October 20, 2021

Hodgson Russ Renewable Energy Alert

,

September 14, 2021

Hodgson Russ Renewable Energy Alert

,

September 8, 2021
Presentations & Events
Ontario Bar Association

,

May 4, 2023
Professional Associations
New York State Bar Association