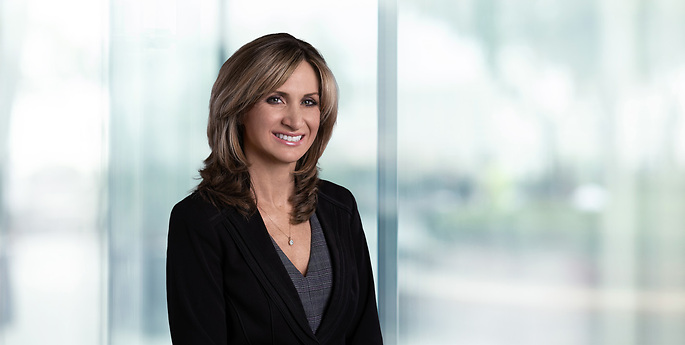 Melissa N. Subjeck
Partner, Litigation Practice; Equine Practice Leader; and Agriculture Practice Co-Leader
Practices & Industries
Admissions
New York
U.S. Court of Appeals, Second Circuit
U.S. District Court, Eastern District of New York
U.S. District Court, Northern District of New York
U.S. District Court, Southern District of New York
U.S. District Court, Western District of New York
Education
Canisius College, B.A., summa cum laude
University at Buffalo School of Law, J.D., cum laude
Melissa is an experienced and dedicated business litigator. She represents prominent national corporations in complex contract, intellectual property, banking, employment, and business disputes, as well as professional malpractice matters. Melissa's extensive experience litigating intellectual property matters includes patent, trademark, copyright, and trade secret disputes. Melissa also represents banks and financial institutions in class action and complex civil litigations, including matters involving allegations of fraud and breach of fiduciary duty, as well as those implicating their BSA/AML programs. In addition, as a member of the firm's COVID-19 Litigation and Employment Action Team, Melissa regularly represents and counsels suppliers, manufacturers, distributors, and vendors on a variety of contract and supply chain disputes, including force majeure.
She has represented both plaintiffs and defendants in diverse areas, including the financial, aerospace, pharmaceutical, medical, dental, and genetic testing industries. She has prosecuted and defended these cases across New York State and elsewhere, frequently obtaining or opposing applications for preliminary injunctive relief.
In addition to general business and intellectual property litigation, Melissa—an owner, breeder, and experienced rider of several national champion Arabian and Half-Arabian horses—is also well versed in and uniquely positioned to practice equine and agriculture law. Melissa's knowledge of these industries, combined with her experience in contract and litigation matters, makes her particularly adept at protecting the diverse legal needs of agricultural operations and horse owners, breeders, trainers, and equestrian facilities. Melissa represents clients in a broad range of matters, including those related to equine and agriculture litigation, dispute resolution, and industry specific contracts.
Honors
Listed,

Best Lawyers in America

(Gaming Law; Cannabis Law; and Commercial Litigation) 2020 - 2024
Listed, Upstate New York Super Lawyers (Business Litigation) 2013 - 2023
Buffalo Business First's 40 Under Forty award, 2014
National Trial Lawyers' Top 40 Under Forty
Leadership Buffalo Class of 2014
In the News
The Trusted Professional

,

April 22, 2021

Chronicle of the Horse

,

May 20, 2020

Buffalo Business First

,

March 12, 2020

Buffalo Business First

,

March 22, 2019

Hacked!

EquiManagement

,

February 9, 2018

Buffalo Business First

,

November 7, 2014

Arabian Horse Times

,

October 2014
Press Releases
Hodgson Russ Press Release

,

August 23, 2022

Hodgson Russ Press Release

,

August 19, 2022

Hodgson Russ Press Release

,

August 20, 2021

Hodgson Russ Press Release

,

August 19, 2021

Hodgson Russ Press Release

,

September 8, 2020

Hodgson Russ Press Release

,

August 20, 2020

Hodgson Russ Press Release

,

August 20, 2019

Press Release

,

August 12, 2019

Press Release

,

August 20, 2018

Press Release

,

September 6, 2017

Press Release

,

August 31, 2016

Press Release

,

August 19, 2015

Press Release

,

December 30, 2014

Press Release

,

August 14, 2014

Press Release

,

August 11, 2014
Publications
Hodgson Russ Intellectual Property Litigation Alert

,

October 6, 2023

Hodgson Russ Intellectual Property Litigation Alert

,

May 30, 2023

Hodgson Russ Banking & Finance Alert

,

March 27, 2023

Hodgson Russ Intellectual Property Litigation Alert

,

March 23, 2023

Hodgson Russ Banking & Finance Alert 

,

March 13, 2023

Hodgson Russ Intellectual Property Litigation Alert

,

January 27, 2023

Hodgson Russ Non-Compete, Non-Solicit, and Trade Secrets Alert

,

January 6, 2023

Hodgson Russ Intellectual Property Litigation Alert

,

December 20, 2022

Hodgson Russ Intellectual Property Alert

,

November 28, 2022

Hodgson Russ Intellectual Property Litigation Alert 

,

October 31, 2022

Hodgson Russ Intellectual Property Litigation Alert

,

October 19, 2022

Hodgson Russ Cannabis & Hemp Alert

,

October 19, 2022

Hodgson Russ Intellectual Property Litigation Alert

,

July 21, 2022

Hodgson Russ Cannabis and Hemp Alert 

,

July 7, 2022

Hodgson Russ Cannabis & Hemp Alert

,

February 2, 2022

Hodgson Russ Cannabis & Hemp and Labor & Employment Alert

,

November 4, 2021

Hodgson Russ Cannabis & Hemp Alert

,

October 26, 2021

Hodgson Russ Cannabis & Hemp Alert

,

September 2, 2021

Hodgson Russ Hemp & Medical Cannabis Alert

,

May 25, 2021

Hodgson Russ Intellectual Property & Technology Alert

,

May 24, 2021

Hodgson Russ Hemp and Medical Cannabis Alert

,

March 29, 2021

Hodgson Russ COVID-19 Litigation and Employment Action Team Alert

,

March 25, 2021

Hodgson Russ Hemp and Medical Cannabis Alert

,

March 23, 2021

Hodgson Russ COVID-19 Litigation and Employment Action Team Alert

,

March 11, 2021

Hodgson Russ COVID-19 Litigation and Employment Action Team Alert

,

March 10, 2021

Hodgson Russ Hemp and Medical Cannabis Alert

,

February 24, 2021

Hodgson Russ Food & Beverage Alert

,

February 17, 2021

Hodgson Russ Hemp & Medical Cannabis and Agriculture Alert

,

February 10, 2021

Hodgson Russ COVID-19 Litigation and Employment Action Team Alert

,

February 8, 2021

Hodgson Russ Hemp and Medical Cannabis Alert

,

February 8, 2021

COVID-19 Litigation and Employment Action Team Alert

,

January 29, 2021

Hodgson Russ Hemp & Medical Cannabis Alert

,

January 27, 2021

Hodgson Russ Hemp & Medical Cannabis and Agriculture Alert

,

January 22, 2021

Hodgson Russ COVID-19 Litigation & Employment Action Team Alert

,

January 21, 2021

Hodgson Russ Hemp & Medical Cannabis Alert

,

January 7, 2021

Hodgson Russ Intellectual Property & Technology Alert

,

January 7, 2021

Hodgson Russ Equine Alert

,

December 31, 2020

Hodgson Russ COVID-19 Litigation & Employment Action Team Alert

,

November 4, 2020

Hodgson Russ COVID-19 Litigation & Employment Action Team Alert

,

October 15, 2020

Hodgson Russ COVID-19 Litigation & Employment Action Team Alert

,

October 12, 2020

Hodgson Russ Food & Beverage Alert

,

September 23, 2020

Hodgson Russ COVID-19 Litigation & Employment Action Team Alert

,

September 10, 2020

Hodgson Russ Food & Beverage Alert

,

August 31, 2020

Hodgson Russ Hemp & Medical Cannabis Alert

,

August 26, 2020

Hodgson Russ COVID-19 Litigation and Employment Action Team Alert

,

August 6, 2020

Hodgson Russ COVID-19 Litigation and Employment Action Team Alert

,

July 28, 2020

Hodgson Russ COVID-19 Litigation & Employment Action Team Alert

,

July 14, 2020

Hodgson Russ Business Litigation Alert

,

June 23, 2020

Hodgson Russ Business Litigation and Bankruptcy & Restructuring Alert

,

June 22, 2020

Hodgson Russ COVID-19 Litigation & Employment Action Team Alert

,

June 15, 2020

Hodgson Russ Business Litigation Alert

,

May 22, 2020

Hodgson Russ OSHA and Business Litigation Alert

,

May 13, 2020

Hodgson Russ Intellectual Property Alert

,

May 8, 2020

Hodgson Russ Intellectual Property Litigation Alert

,

April 27, 2020

Hodgson Russ Business Litigation Alert

,

April 22, 2020

Hodgson Russ Business Litigation and Securities Regulation & Corporate Compliance Alert

,

April 22, 2020

Hodgson Russ Agriculture Alert

,

April 20, 2020

Hodgson Russ Business Litigation Alert

,

April 15, 2020

Hodgson Russ Business Litigation Alert

,

April 9, 2020

Hodgson Russ Food & Beverage Alert

,

April 7, 2020

Hemp & Medical Cannabis Alert

,

April 6, 2020

Hodgson Russ Food & Beverage Practice Alert

,

April 3, 2020

Hodgson Russ Food & Beverage Alert

,

March 16, 2020

Hodgson Russ Non-Compete, Non-Solicit & Trade Secrets Alert

,

March 12, 2020

Hemp & Medical Cannabis Alert

,

January 28, 2020

Hemp & Medical Cannabis Alert

,

December 16, 2019

Interim guidance adds some certainty to an evolving industry, including relief from strict criminal limits

Hemp & Medical Cannabis Alert

,

November 4, 2019

Hemp & Medical Cannabis Alert

,

October 4, 2019

Hemp & Medical Cannabis Alert

,

August 23, 2019

Hemp & Medical Cannabis Alert

,

July 10, 2019

Hemp & Medical Cannabis Alert

,

July 2, 2019

Hemp & Medical Cannabis Alert

,

May 30, 2019

Hemp & Medical Cannabis Alert

,

May 2, 2019

Hemp & Medical Cannabis Alert

,

April 12, 2019

Intellectual Property Practice Alert

,

January 11, 2019

Agriculture Alert

,

November 6, 2018

Agriculture Alert

,

July 25, 2018

Wolters Kluwer IP Law Daily

,

October 31, 2016

Buffalo Law Journal

,

May 2, 2016

Equine Sales Transactions: How to Handle the Dishonest Seller

Mane Stream

,

January 28, 2016

Mane Stream

,

November/December 2015

Buffalo Law Journal

,

April 8, 2015

New York State Horse Council Newsletter

,

March 6, 2015

New York Horse Council Newsletter

,

March 6, 2015

New York Horse

,

January 2015

Arabian Horse Association of New York Inc. Newsletter and Trust Advisor, America's Leading Wealth Management E-Newsletter

,

August 2014

New York Law Journal

,

January 6, 2014

New York Law Journal

,

January 7, 2013
Presentations & Events
Hodgson Russ, 140 Pearl Street, Buffalo, NY 14202

,

October 12, 2023

M&T Bank, Buffalo, NY

,

June 29, 2023

April 20, May 25, and June 22, 2023

November 17, December 1 & 15, January 5 & 19

Crossroads Conference Center, Belmont, NY

,

April 10, 2019

Longfellow's Hotel, 500 Union Ave, Saratoga Springs, NY 12866

,

December 12, 2018

Purina Professional Horseman's Symposium

Clyde's Feed and Animal Center

,

July 10, 2018

United States Law Firm Group Presentation

Hodgson Russ, 140 Pearl St, Buffalo, NY 14202

,

May 17 to May 18, 2018

Equifest Western Chapter of NYSHC - Moving Beyond the Handshake Deal: The Increasing Importance of Written Agreements in the Horse Industry

Purina Horse Owners' Workshop - Legal Issues for Horse Owners and Professionals

Clyde's Feed and Animal Center

,

December 1, 2016

Purina Horse Owners' Workshop - Legal Issues for Horse Owners and Professionals

Clyde's Feed and Animal Center

,

March 25, 2016

Equine Affaire - Nuts & Bolts of Equine Law: Everything an Equine Professional and Horse Enthusiast Should Know

Nassau-Suffolk Horsemen's Association - Equine Law: Legal Issues for Horse Owners and Professionals

Central New York Horse Club - Equine Law: Legal Issues for Horse Owners and Professionals

Arabian Horse Association of New York - Equine Law: Legal Issues for Horse Owners and Professionals

Equine Affaire: Nuts & Bolts of Equine Law - Everything a Horse Enthusiast Should Know

Columbus, OH

,

April 12, 2015

Equine Affaire - Professional Negligence in the Equine Industry: What Every Professional Wants to Know

Columbus, OH

,

April 12, 2015

WNY Equifest Seminar: Horses & the Law - Legal Issues Every Enthusiast Should Know

Hamburg, NY

,

March 15, 2015

New York, NY

,

November 2013

Federal Bar Association Webinar: Patent Piracy - When Is Offshore Activity Infringement?

Buffalo, NY

,

March 29, 2012

Buffalo, NY

,

October 6, 2011

Buffalo, NY

,

September 24, 2009

Erie Institute of Law CLE Seminar: 2008 Update on Civil Practice and Procedure
Professional Associations
Federal Bar Association
New York State Bar Association
Bar Association of Erie County
Co-Chair of Intellectual Property, Computer, and Entertainment Law Committee, Bar Association of Erie County
Community & Pro Bono
SPCA Serving Erie County board of directors, co-chair of legislative committee, and governance committee

Former National Federation for Just Communities of Western New York board of directors and co-chair of the Dash for Diversity Committee
Former Roswell Park Cancer Institute All-Star Night Committee
Former Women and Children's Hospital of Buffalo Foundation Event Planning Committee
University at Buffalo School of Law mentoring program
United States Equestrian Federation, member
Arabian Horse Association of New York, member