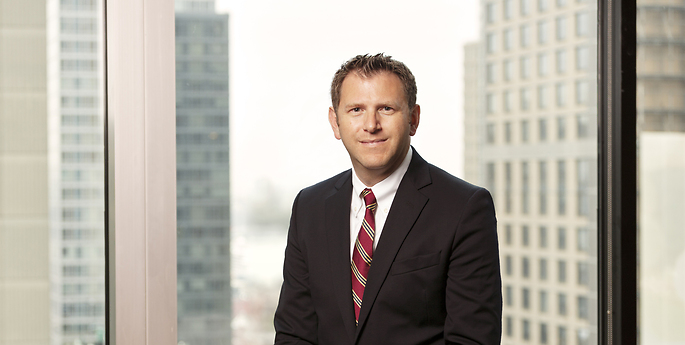 Admissions
New York
New Jersey
U.S. District Court, Eastern District of New York
U.S. District Court, Southern District of New York
U.S. District Court, Western District of New York
U.S. District Court, District of New Jersey
U.S. Court of Appeals, Federal Circuit
U.S. Court of Appeals, Second Circuit
U.S. Court of Appeals, Third Circuit
Education
Queens College, City University of New York, B.A.
Touro College Jacob D. Fuchsberg Law Center, J.D., cum laude
Neil has extensive experience in intellectual property law. His practice concentration includes trademark prosecution, trademark management of international portfolios, trademark enforcement and anti-counterfeiting, licensing and transactional agreements, and intellectual property litigation before U.S. federal courts and the Trademark Trial and Appeal Board of the U.S. Patent and Trademark Office.
Neil regularly counsels clients and businesses regarding the adoption of their trademarks, branding techniques and strategies, advertising, and social media issues. Additionally, Neil regularly handles sending and responding to cease and desist letters, resulting settlement agreements, coexistence agreements, and letters of consent, as well as customs recordations and anti-counterfeiting work, including:
creating brand manuals;
trademark and copyright recordation program for IP owners;
tracking counterfeit seizures for potential civil and criminal actions;
investigations of counterfeiters and testing of counterfeit goods;
cease and desist letter work that develops into civil court actions;
assisting local authorities and prosecutors with search warrants and arrests;
assisting U.S. Attorney's Office in Manhattan, New Orleans, and Los Angeles in the prosecution of counterfeiters of clients' products;
preparation of victim impact statements and obtaining restitution for clients.
When disputes arise, Neil's experience, knowledge base, and hands-on and attentive approach render him well positioned to obtain cost-effective results for his clients.
Prior to joining Hodgson Russ, Neil was partner at an intellectual property law firm with offices in New York City and New Jersey. There, he was responsible for the management of the trademark portfolios for a variety of companies, both domestically and internationally. Neil also served for five years as a senior assistant district attorney in Suffolk County, New York, where he was responsible for the investigation and prosecution of trademark counterfeiting, computer crimes, and other white collar crimes.
Honors
Notes and comments editor, Touro International Law Review
American Jurisprudence Award for Academic Excellence in Contracts II
West Publishing Corpus Juris Secundum Award for Excellence in Contracts II
In the News
Buffalo Business First

,

May 9, 2022
Publications
Hodgson Russ Intellectual Property Litigation Alert

,

May 30, 2023

Hodgson Russ Food & Beverage Alert

,

May 3, 2023

Hodgson Russ Intellectual Property Litigation Alert

,

March 23, 2023

Hodgson Russ Food & Beverage Alert

,

March 20, 2023

Hodgson Russ Intellectual Property & Technology Alert 

,

February 7, 2023

Hodgson Russ Intellectual Property Litigation Alert

,

January 27, 2023

Hodgson Russ Food & Beverage Alert

,

January 4, 2023

Hodgson Russ Intellectual Property Litigation Alert

,

December 20, 2022

Hodgson Russ Intellectual Property Alert

,

November 28, 2022

Hodgson Russ Intellectual Property Litigation Alert 

,

October 31, 2022

Hodgson Russ Intellectual Property Litigation Alert

,

October 19, 2022

Hodgson Russ Food and Beverage Alert

,

September 12, 2022

Hodgson Russ Intellectual Property Litigation Alert

,

July 21, 2022

Hodgson Russ Intellectual Property & Technology Alert

,

May 24, 2021

Hodgson Russ Food & Beverage Alert

,

May 21, 2021

Hodgson Russ Food and Beverage Alert

,

May 10, 2021

Hodgson Russ Food and Beverage Alert

,

April 30, 2021

Hodgson Russ Food and Beverage Alert

,

April 19, 2021

Hodgson Russ Food & Beverage Alert

,

March 9, 2021

Hodgson Russ Food & Beverage Alert

,

February 25, 2021

Hodgson Russ Food & Beverage Alert

,

February 17, 2021

Hodgson Russ Trademark Oppositions & Cancellations Alert

,

January 25, 2021

Hodgson Russ Intellectual Property & Technology Alert

,

January 7, 2021

Hodgson Russ Food & Beverage Alert

,

September 23, 2020

Hodgson Russ Food & Beverage Alert

,

August 31, 2020

Hodgson Russ Business Litigation Alert

,

June 23, 2020

Hodgson Russ Business Litigation and Bankruptcy & Restructuring Alert

,

June 22, 2020

Hodgson Russ Business Litigation Alert

,

May 22, 2020

Hodgson Russ OSHA and Business Litigation Alert

,

May 13, 2020

Hodgson Russ Intellectual Property Alert

,

May 8, 2020

Hodgson Russ Intellectual Property Litigation Alert

,

April 27, 2020

Hodgson Russ Business Litigation Alert

,

April 22, 2020

Hodgson Russ Business Litigation and Securities Regulation & Corporate Compliance Alert

,

April 22, 2020

Hodgson Russ Business Litigation Alert

,

April 15, 2020

Hodgson Russ Business Litigation Alert

,

April 9, 2020

Hodgson Russ Food & Beverage Alert

,

April 7, 2020

Hodgson Russ Food & Beverage Practice Alert

,

April 3, 2020

Hodgson Russ Food & Beverage Alert

,

March 16, 2020

Agriculture Alert

,

November 6, 2018

Intellectual Property & Technology Alert

,

October 17, 2018

Intellectual Property & Technology Alert

,

June 20, 2017

Wolters Kluwer IP Law Daily

,

October 31, 2016

Intellectual Property & Technology Alert

,

October 15, 2015
Presentations & Events
New York Law School, 185 West Broadway, New York, NY

,

October 21, 2016

Touro Law Center, Long Island, New York, NY

,

April 13, 2016

New York Diamond Dealers Club, 580 5th Ave, New York, NY

,

March 16, 2016
Professional Associations
International Trademark Association