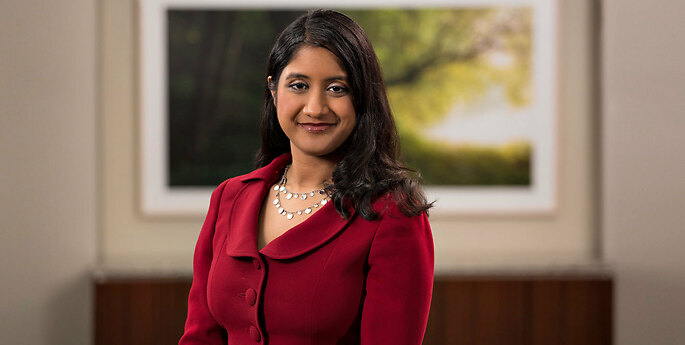 Reetuparna (Reena) Dutta
Partner, Financial Institution Subpoena Compliance Practice Leader, Co-Leader False Claims Act & Whistleblower Representation Practice
Practices & Industries
Education
Dartmouth College, A.B.
George Washington University Law School, J.D., With Highest Honors
Reena specializes in helping clients – in a variety of industries – comply with complicated legal regimes to avoid unwanted and unwarranted government scrutiny. Reena has a background in white collar criminal defense and has extensive experience representing clients in connection with civil and criminal government investigations and prosecutions, most notably in relation to:
The Federal False Claims Act
The Foreign Corrupt Practices Act
Tax Fraud
Drug Offenses
Environmental Violations
Contract Disputes and Civil Fraud Claims
Reena's experience encompasses representing clients in the financial services, healthcare, manufacturing, construction, and real estate industries. In particular, and due to her work with the federal and state False Claims Acts, Reena has developed substantive expertise in navigating the complicated legal regimes governing the provision of health care.
Moreover, her background in litigating against, and also working with, the government gives her valuable insight in counseling clients on compliance and corporate governance matters and maintaining cooperative and helpful relationships with government regulators. Reena has also assisted companies in conducting internal investigations and in responding to, and addressing, government-initiated investigations, including responding to grand jury subpoenas, civil investigative demands, and other forms of legal process. She has also helped individuals navigate the complicated subpoena process when they unwittingly find themselves involved in a legal dispute.
Reena has extensive trial and appellate court experience, ensuring that clients have a strong and effective advocate when litigation becomes necessary. She has authored and presented on various topics relating to the False Claims Act and business crimes.
Reena received her certification as a Certified Professional Compliance Officer (CPCO) from the AAPC, the world's largest training and credentialing organization for the business of healthcare. The certification evidences Reena's understanding of the key requirements needed to effectively develop and maintain a healthcare compliance program. CPCO's have demonstrated knowledge of OIG compliance guidance for individual and small group physician practices, clinical laboratories, and third party billing companies; key healthcare fraud and abuse laws; other healthcare-related laws including HIPAA, EMTALA, OSHA, and CLIA; internal investigations and government investigative activities, and various risk areas.
Prior to joining Hodgson Russ, Reena was an Intern at the U.S. Department of Justice, Civil Appellate Division and a Law Clerk at the Office of the Senate Chief Counsel for Employment.
Honors
Leadership Buffalo, Class of 2020
Listed, Best Lawyers in America, (Criminal Defense: White Collar) 2022
Listed, Upstate New York Super Lawyers, (Criminal Defense: White Collar) 2020 - 2021
Listed, Upstate New York Super Lawyers Rising Stars, 2014 - 2019
Finalist, Athena Young Professional Leadership Award, 2018
Elected to the Board of Directors for the Bar Association of Erie County, 2018
American Institute of Criminal Lawyers Ten Best Under 40, 2016
Lawyers of Color Hot List, 2013
Order of the Coif, George Washington University Law School
Former associate, George Washington Law Review
Presentations & Events
November 17, December 1 & 15, January 5 & 19

Hodgson Russ, Buffalo, NY

,

January 30, 2020

Community Health Center of Buffalo

,

April 17, 2019

Hodgson Russ, Buffalo, NY

Templeton Landing

,

December 7, 2017

Hodgson Russ LLP, NYC

,

June 20, 2017

Hodgson Russ, Buffalo, NY

,

January 26, 2017

Current Trends and Practices in Mitigating FCPA Risks and Threats in Global Private Equity Ventures

Hodgson Russ, Buffalo, NY

,

January 21, 2016

Updates on the False Claims Act and Other Bases for Liability for Financial Institutions

Buffalo, NY

,

March 5, 2014

Buffalo, NY

,

November 13, 2013

Hodgson Russ, Buffalo, NY

,

October 30, 2012

Buffalo, NY

,

November 17, 2011

Buffalo, NY

,

November 10, 2010

Buffalo, NY

,

January 27, 2010
Professional Associations
Bar Association of Erie County, Board of Directors
Community & Pro Bono
United Way, Board of Directors