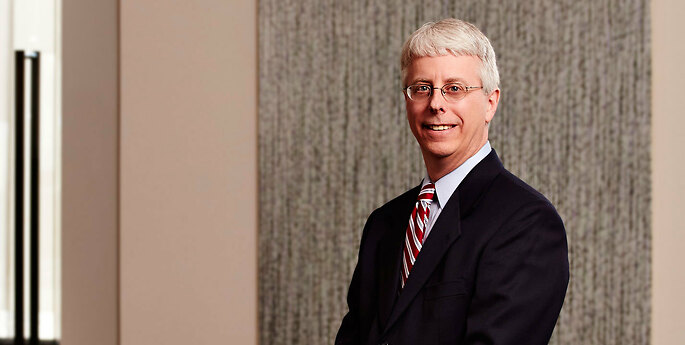 Practices & Industries
Clerkships
Judge James C. Hill, U.S. Court of Appeals for the Eleventh Circuit
Education
University of Notre Dame, B.A., summa cum laude
Yale Law School, J.D.
Paul has more than 25 years of experience at Hodgson Russ working with private- and public-sector clients, environmental consultants, architects, accountants, and fellow attorneys on a wide variety of matters involving environmental, transactional, and project development issues. He enjoys working with clients and professionals to formulate and implement strategies to work through issues to bring projects to successful conclusions, whether construction projects, permitting, remedial actions, transactions, or dispute resolutions.
Paul has worked on multimillion-dollar school district, university, medical, sports facility, manufacturing, and architectural-tourism developments. He has extensive experience in environmental impact reviews under the State Environmental Quality Review Act (SEQRA) and with the New York State Department of Environmental Conservation; the New York State Office of Parks, Recreation, and Historic Preservation; the New York State Education Department; the U.S. Environmental Protection Agency; and the U.S. Army Corps of Engineers on environmental impact issues, including wetlands, cultural resources, and traffic.
Paul also advises clients on permitting and regulatory compliance matters, hazardous waste and petroleum cleanups, and environmental risk assessment and management associated with transactions. This includes counseling Canadian-based clients on various cross-border development and regulatory matters.
In the News
Buffalo Business First

,

May 25, 2015
Publications
Hodgson Russ Education Alert

,

October 20, 2023

Hodgson Russ Renewable Energy Alert 

,

August 8, 2023

Hodgson Russ Education Alert 

,

July 21, 2023

Hodgson Russ Education Alert

,

April 18, 2023

Hodgson Russ Brownfield Redevelopment Alert

,

March 29, 2023

Hodgson Russ Renewable Energy Alert 

,

December 14, 2022

Hodgson Russ Education Alert

,

October 18, 2022

Hodgson Russ Renewable Energy Alert

,

September 12, 2022

Hodgson Russ Education Alert 

,

June 24, 2022

Hodgson Russ Renewable Energy and Real Estate Alert 

,

June 21, 2022

Hodgson Russ Renewable Energy & Municipal Alert

,

May 3, 2022

Hodgson Russ Renewable Energy and Municipal Alert

,

April 29, 2022

Hodgson Russ Municipal and Education Alert

,

April 19, 2022

Hodgson Russ Brownfield Redevelopment Alert

,

April 11, 2022

Hodgson Russ Environmental Alert

,

March 22, 2022

Hodgson Russ Renewable Energy Alert

,

February 3, 2022

Hodgson Russ Brownfield Redevelopment Alert

,

January 27, 2022

Hodgson Russ Renewable Energy Alert

,

January 19, 2022

Hodgson Russ Renewable Energy Alert

,

November 30, 2021

Hodgson Russ SALT and Renewable Energy Alert

,

November 15, 2021

Hodgson Russ Renewable Energy Alert

,

November 9, 2021

Hodgson Russ Environmental Alert

,

November 5, 2021

Hodgson Russ Environmental Alert

,

November 2, 2021

Hodgson Russ Land Use & Economic Development Alert

,

October 22, 2021

Hodgson Russ Environmental Alert

,

October 20, 2021

Hodgson Russ Renewable Energy Alert

,

September 14, 2021

Hodgson Russ Renewable Energy Alert

,

September 8, 2021

Hodgson Russ Education Alert

,

September 2, 2021

Hodgson Russ Education Alert

,

August 6, 2021

Hodgson Russ Renewable Energy Alert

,

August 3, 2021

Hodgson Russ Renewable Energy Alert

,

August 2, 2021

Hodgson Russ Education and Media & First Amendment Alert

,

June 23, 2021

Hodgson Russ Renewable Energy Alert

,

April 19, 2021

Hodgson Russ Renewable Energy Alert

,

April 7, 2021

Hodgson Russ Renewable Energy Alert

,

April 6, 2021

Hodgson Russ Environmental and Renewable Energy Alert

,

March 24, 2021

Hodgson Russ Education Alert

,

March 8, 2021

Hodgson Russ Renewable Energy Alert

,

March 4, 2021

Hodgson Russ Education Alert

,

February 22, 2021

Hodgson Russ Education Alert

,

February 17, 2021

Hodgson Russ Renewable Energy Alert

,

January 13, 2021

Hodgson Russ Renewable Energy Alert

,

January 6, 2021

Hodgson Russ Renewable Energy Alert

,

December 17, 2020

Hodgson Russ Renewable Energy Alert

,

December 1, 2020

Hodgson Russ Education Alert 

,

December 1, 2020

Hodgson Russ Renewable Energy Alert

,

November 23, 2020

Hodgson Russ Renewable Energy Alert

,

October 28, 2020

Hodgson Russ Renewable Energy Alert

,

October 23, 2020

Hodgson Russ Renewable Energy Alert

,

October 21, 2020

Hodgson Russ Renewable Energy Alert

,

October 19, 2020

Hodgson Russ Renewable Energy Alert

,

October 16, 2020

Hodgson Russ Brownfield Redevelopment Alert

,

September 29, 2020

Hodgson Russ Renewable Energy Alert

,

September 22, 2020

Hodgson Russ Renewable Energy Alert

,

September 17, 2020

Hodgson Russ Renewable Energy Alert

,

September 10, 2020

Hodgson Russ Environmental and Renewable Energy Alert

,

August 20, 2020

Hodgson Russ Environmental Alert

,

August 12, 2020

Hodgson Russ Municipal and Education Alert

,

August 7, 2020

Hodgson Russ Environmental Alert

,

August 6, 2020

Hodgson Russ Renewable Energy Alert

,

August 6, 2020

Hodgson Russ Renewable Energy Alert

,

July 28, 2020

Hodgson Russ Environmental Alert

,

July 28, 2020

Hodgson Russ Renewable Energy Alert

,

July 24, 2020

Hodgson Russ Renewable Energy Alert

,

July 20, 2020

Hodgson Russ Environmental Alert

,

July 1, 2020

Hodgson Russ Brownfield Redevelopment Alert

,

June 29, 2020

Hodgson Russ Renewable Energy Alert

,

June 19, 2020

Hodgson Russ Renewable Energy Alert

,

June 12, 2020

Hodgson Russ Renewable Energy Alert

,

June 9, 2020

Hodgson Russ Education Alert

,

June 8, 2020

Hodgson Russ Education Alert

,

June 5, 2020

Hodgson Russ Renewable Energy Alert

,

June 3, 2020

Hodgson Russ Renewable Energy Alert

,

June 2, 2020

Hodgson Russ Renewable Energy Alert

,

May 26, 2020

Hodgson Russ Renewable Energy Alert

,

May 20, 2020

Hodgson Russ Renewable Energy and Construction Alert

,

May 15, 2020

Hodgson Russ Renewable Energy Alert

,

May 15, 2020

Hodgson Russ Education Alert

,

May 13, 2020

Hodgson Russ Renewable Energy Alert

,

May 6, 2020

Hodgson Russ Education Alert

,

May 2, 2020

Hodgson Russ Environmental Alert

,

April 27, 2020

Hodgson Russ Renewable Energy Alert

,

April 27, 2020

Hodgson Russ Renewable Energy Alert

,

April 23, 2020

Hodgson Russ Renewable Energy Alert

,

April 21, 2020

Hodgson Russ Renewable Energy Alert

,

April 20, 2020

Hodgson Russ Renewable Energy Alert

,

April 16, 2020

Hodgson Russ Environmental Alert

,

April 14, 2020

Hodgson Russ Renewable Energy Alert

,

April 9, 2020

Hodgson Russ Education, Municipal & Public Finance Alert

,

April 8, 2020

Hodgson Russ Environmental Alert

,

April 6, 2020

Hodgson Russ Renewable Energy Alert

,

April 3, 2020

Hodgson Russ Renewable Energy Alert

,

April 2, 2020

Hodgson Russ Environmental and Brownfield Redevelopment Alert

,

April 1, 2020

Hodgson Russ Renewable Energy Alert

,

April 1, 2020

Hodgson Russ Education Alert

,

March 31, 2020

Hodgson Russ Education Alert

,

March 30, 2020

Hodgson Russ Renewable Energy Alert

,

March 30, 2020

Hodgson Russ Environmental Alert

,

March 27, 2020

Hodgson Russ Environmental Alert

,

March 26, 2020

Hodgson Russ Renewable Energy Alert

,

February 26, 2020

Hodgson Russ Renewable Energy Alert

,

February 24, 2020

Hodgson Russ Renewable Energy Alert

,

February 10, 2020

Hodgson Russ Renewable Energy Alert

,

February 4, 2020

Hodgson Russ Renewable Energy Alert

,

January 30, 2020

Hodgson Russ Renewable Energy and Municipal Alert

,

January 29, 2020

Hodgson Russ Environmental, Brownfield and Tax Alert

,

January 22, 2020

Hodgson Russ Renewable Energy Alert

,

January 22, 2020

Hodgson Russ Environmental and Renewable Energy Alert

,

January 21, 2020

Hodgson Russ Renewable Energy Alert

,

January 6, 2020

Hodgson Russ Renewable Energy and Muncipal Law Alert

,

January 6, 2020

Hodgson Russ Renewable Energy Alert

,

December 19, 2019

Hodgson Russ Renewable Energy and Muncipal Law Alert

,

December 16, 2019

Hodgson Russ Renewable Energy Alert

,

December 12, 2019

Petition is first move towards New York's aggressive goal of 6,000 Megawatts of solar by 2025

Hodgson Russ Renewable Energy Alert

,

December 4, 2019

Hodgson Russ Renewable Energy Alert

,

December 2, 2019

Hodgson Russ Environmental Alert

,

November 27, 2019

Hodgson Russ Environmental, Municipal, and Public Finance Alert

,

November 12, 2019

Hodgson Russ Renewable Energy Alert

,

November 6, 2019

Hodgson Russ Renewable Energy Alert

,

November 1, 2019

Hodgson Russ Renewable Energy Alert

,

October 31, 2019

Hodgson Russ Municipal and Education Alert

,

October 21, 2019

Hodgson Russ Renewable Energy Alert

,

October 18, 2019

Hodgson Russ Renewable Energy and Environmental Alert

,

October 8, 2019

Hodgson Russ Renewable Energy Alert

,

October 7, 2019

Hodgson Russ Brownfield Redevelopment and Renewable Energy Alert

,

June 18, 2019

Hodgson Russ Education Alert

,

June 14, 2019

Hodgson Russ Environmental Alert

,

May 7, 2019

Hodgson Russ Renewable Energy Alert

,

May 6, 2019

Hodgson Russ Environmental Alert

,

April 22, 2019

Hodgson Russ Environmental Alert

,

April 18, 2019

Renewable Energy Alert

,

February 13, 2019

Increased Regulatory Requirements and Water Infrastructure Investment Likely in 2019

Environmental Alert

,

December 21, 2018

Renewable Energy Alert

,

November 20, 2018

Environment & Energy Alert

,

March 27, 2012
Presentations & Events
M-Hotel Buffalo, 2040 Walden Ave, Buffalo, NY 14225

,

January 12, 2024

Buffalo Marriott Niagara 1340 Millersport Hwy, Amherst, NY 14221

,

January 13, 2023

Millennium Hotel, 2040 Walden Avenue, Buffalo NY 14225

,

January 17, 2020

Millennium Hotel, 2040 Walden Avenue, Cheektowaga, NY 14225

,

May 17, 2018

Buffalo, NY

,

January 17, 2014

Buffalo, NY

,

January 18, 2013

Buffalo, NY

,

March 30, 2011

Buffalo, NY

,

March 26, 2009
Professional Associations
Past chair, United States Law Firm Group Environmental Law Section
Air and Waste Management Association
Community & Pro Bono
Williamsville Girls Varsity Hockey and Field Hockey Booster Clubs
Amherst and Rochester Youth Hockey Associations