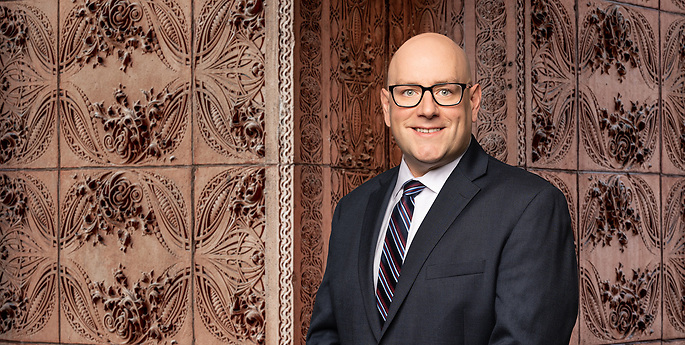 Charles W. Malcomb
Partner; Public Authority Practice Co-Leader
Practices & Industries
Education
University at Buffalo, B.A., summa cum laude
University at Buffalo School of Law, J.D., magna cum laude
Chuck concentrates his practice on environmental law, energy law, land-use law, municipal law, and real estate development. He has experience working with both private and public clients on issues involving both state and federal environmental statutes, and he assists municipalities with a wide range of legal issues, including environmental review and zoning.
A primary part of Chuck's work focuses on the State Environmental Quality Review Act (SEQRA) where he has extensive experience guiding municipalities and developers through its requirements. Successful projects include environmental assessments for large-scale telecommunications projects, power generation projects (including some of the largest wind farms in the eastern United States and both utility and small-scale solar projects), infrastructure improvements, and public and private developments, from project inception through successful litigation. He has assisted in drafting scoping documents, environmental impact statements, findings statements, decisions, and guiding public review. Chuck also counsels clients on local, state, and federal permitting processes, including compliance with historic preservation laws, the Clean Water Act, the Clean Air Act, and other federal environmental statutes and regulations.
Chuck frequently gives presentations and provides training programs for local government officials across the State on SEQRA, zoning, environmental law, land-use law, and ethics. He regularly presents at the Summer School and Annual Meetings of the Association of Towns and provides training for the New York Planning Federation. He has trained code enforcement officers and town and village justices on zoning and building code enforcement, and has published articles on investigating and prosecuting violations. In addition, Chuck has provided training to planners and local government officials on NYS Agriculture and Markets law, and the protections applicable to farm operations, including the limitations on municipal regulations.
As part of his municipal practice, Chuck serves as the attorney for an upstate New York municipality addressing the full-range of general municipal issues. He regularly counsels municipal clients on leasing, ethics, environmental matters, zoning, assessment, eminent domain, and procurement. Chuck represents clients engaged in farm operations in County-adopted, State-certified Agricultural Districts and have assisted in securing municipal approvals for operations, including renewable energy projects. He has also defended lawsuits challenging municipal approvals to farm operations. His further litigation experience includes tax assessment matters, land use issues, environmental enforcement, and other issues before administrative and judicial forums. He has drafted laws for municipalities on a variety of subjects.
Chuck also counsels clients in the oil and gas industry on a variety of matters, including environmental compliance and administrative enforcement defense. Chuck and his colleagues represent several oil and gas companies in defending lawsuits alleging pollution resulting from drilling activities.
Chuck has represented clients with matters pending before the State Liquor Authority, including applications for licenses. Specifically, he has provided guidance to wineries and distilleries with respect to licensing issues and compliance with Federal and State laws regulating the sale and consumption of alcohol.
In addition, Chuck is conversant in Russian.
Honors
Listed, Best Lawyers in America (Land Use and Zoning Law; Litigation-Municipal Law; and Municipal Law) 2023 - 2024
Listed, Upstate New York Super Lawyers (Environmental) 2021 - 2023
Listed, Upstate New York Super Lawyers Rising Stars (Environmental) 2014 - 2020
Presentations & Events
RIT Conference Center, Rochester

,

December 9, 2021

Albany, NY

,

September 25, 2019

Millennium Hotel, 2040 Walden Avenue, Cheektowaga, NY

,

June 13, 2019

Templeton Landing, Buffalo, NY

,

January 24, 2019

Millennium Hotel Buffalo

,

January 18, 2019

Buffalo, New York

,

September 28-29

Mayville, New York

,

September 11, 2018

Otesaga Resort Hotel

,

May 23 - 25, 2018

Millennium Hotel, 2040 Walden Avenue, Cheektowaga, NY 14225

,

May 17, 2018

Verona, NY

,

October 16, 2017

Tug Hill Commission Annual Local Government Conference – Ethical Considerations for Planning and Zoning Boards

Watertown, NY

,

March 30, 2017

New York Planning Federation Annual Conference 2017 – Ethical Considerations for Planners

Saratoga Springs, NY

,

March 27 - 28, 2017

Association of Towns Annual Meeting 2017 - Zoning and Real Property Taxation for Solar Energy

New York Marriott Marquis, NY

,

February 20, 2017

Air & Waste Management Association Annual Seminar 2017 - Environmental Reporting Obligations

Templeton Landing, 2 Templeton Terrace, Buffalo, NY

,

January 25, 2017

Hodgson Russ Albany Municipal Law Seminar 2016 - SEQRA and Land Use Case Law Update

Hilton Garden Inn, 30 Clifton Country Road, Clifton Park, NY

,

September 27, 2016

Association of Towns Summer School 2016 - Introduction to Form-based Codes

Quality Inn & Suites Palm Island, 8250 Park ROad, Batavia, NY

,

August 12, 2016

Hodgson Russ Municipal Law Seminar 2016 - State Agency Update

Millennium Hotel, 2040 Walden Avenue, Cheektowaga, NY

,

May 17, 2016

New York Planning Federation Annual Conference 2016 - Ethical Considerations for Municipal Boards and Planners

The Gideon Putnam, 24 Gideon Putnam Road, Saratoga Springs, NY 12866

,

April 18-19, 2016

Association of Towns Annual Meeting 2016 - SEQRA and Land Use Case Law Update

New York Marriott Marquis, New York, NY

,

February 15, 2016

Independent Oil & Gas Association of New York Water Issues Seminar - Changes to New York Water Management

Creekside Lodge at Holiday Valley Resort, 6557 Holiday Valley Road, Ellicottville, NY

,

September 17, 2015

Independent Oil & Gas Association of New York Water Issues Seminar - Status of the Hydraulic Fracturing Supplemental Generic Environmental Impact Statement

Creekside Lodge at Holiday Valley Resort, 6557 Holiday Valley Road, Ellicottville, NY

,

April 30, 2015

Independent Oil & Gas Association of New York Seminar - Clean Water Act Enforcement

Webb's Year-Round Resort, Maryville, NY

,

January 22, 2015

Buffalo, NY

,

May 22, 2014

Cooperstown, NY

,

May 5, 2014

Saratoga Springs, NY

,

March 31, 2014

New York, NY

,

August 27, 2013

Buffalo, NY

,

May 16, 2013

Corning, NY

,

April 3 & 4, 2013

New York, NY

,

February 18, 2013

New York, NY

,

January 26, 2013

White Plains, NY

,

December 7, 2012

Buffalo, NY

,

May 17, 2012

Allegany County, NY

,

May 9, 2012

Mayville, NY

,

November 16, 2011

Cheektowaga, NY

,

May 12, 2011

Buffalo, NY

,

March 30, 2011

Monticello, NY

,

March 23, 2011

Niagara Falls, NY

,

September 2010

Binghamton & Geneseo, NY

,

July 2010

Cheektowaga, NY

,

May 26, 2010

Rochester, NY

,

March 18, 2010
Professional Associations
Environmental Law Institute

New York State Bar Association

Bar Association of Erie County
Community & Pro Bono
Rivershore Foundation, Inc. board member