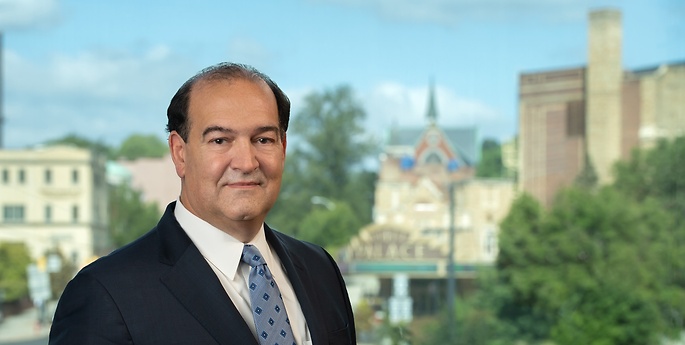 Christopher Massaroni
Partner
Practices & Industries
Admissions
New York
U.S. District Court, Northern District of New York
U.S. District Court, Southern District of New York
U.S. District Court, Eastern District of New York
U.S. Court of Appeals, Second Circuit
Education
Union College, B.A., Summa Cum Laude
Cornell Law School, J.D.
Christopher Massaroni is a trial attorney with experience in many substantive areas, including complex commercial disputes, personal injury and product liability cases, class action litigation, employment matters, construction claims and challenges to the authority of New York State officials. He has successfully litigated cases in federal and state courts throughout New York State, and in numerous other states and he often appears before New York State agencies and investigative bodies.
Chris regularly represents businesses, individuals, public officials and governmental entities in sensitive and contested matters, involving novel cases presenting unique issues of law. His class action experience includes the defense of data breach claims, claims against retailers, and wage and hour claims. He often addresses insurance issues, including coverage disputes and claims of bad faith, and represents a major New York medical malpractice insurance carrier.
Chris has extensive experience in the litigation of corporate disputes, including those involving claims of shareholders, ownership disputes, allegations of breach of fiduciary duty and intellectual property issues. He also represents management in a variety of labor and employment matters, including discrimination and wrongful termination claims, grievances and claims of unlawful union activities.
In the personal injury field, Chris has been selected by many national corporations to handle their self-insured personal injury defense claims in Upstate New York, including mass tort and complex product liability cases. He also represents accident victims in wrongful death and major injury cases, and has recovered many millions of dollars on behalf of those clients.
Chris is a contributing author to a Matthew Bender publication, Personal Injury Defense Techniques. Because of his expertise in the areas of litigation, trial techniques, corporate disputes and employment matters, Chris is often a speaker at continuing legal education seminars on these topics.
Prior to joining Hodgson Russ, Chris was a shareholder at the law firm of McNamee Lochner.
Honors
Listed, Best Lawyers in America (Commercial Litigation) 2015 - 2023
Listed, Upstate New York Super Lawyers (Business Litigation) 2010 - 2022
Fellow, New York State Bar Foundation
Martindale Hubbell AV Rating
In the News
Albany Business Review

,

March 12, 2021

The Saratogian

,

October 13, 2020

Times-Union

,

October 9, 2020

Albany Business Review

,

July 17, 2020

Albany Business Review

,

April 17, 2020
Press Releases
Hodgson Russ Press Release

,

August 23, 2022

Hodgson Russ Press Release

,

August 19, 2022

Hodgson Russ Press Release

,

August 20, 2021

Hodgson Russ Press Release

,

August 19, 2021

Hodgson Russ Press Release

,

September 8, 2020

Hodgson Russ Press Release

,

August 20, 2020

Hodgson Russ Press Release

,

September 3, 2019
Publications
Hodgson Russ Intellectual Property Litigation Alert

,

May 30, 2023

Hodgson Russ Labor & Employment Alert

,

May 16, 2023

Hodgson Russ Labor & Employment Alert 

,

April 26, 2023

Hodgson Russ Intellectual Property Litigation Alert

,

March 23, 2023

Hodgson Russ Labor & Employment Alert

,

February 7, 2023

Hodgson Russ Intellectual Property Litigation Alert

,

January 27, 2023

Hodgson Russ Non-Compete, Non-Solicit, and Trade Secrets Alert

,

January 6, 2023

Hodgson Russ Labor & Employment Alert

,

December 28, 2022

Hodgson Russ Labor & Employment Alert

,

December 27, 2022

Hodgson Russ Intellectual Property Litigation Alert

,

December 20, 2022

Hodgson Russ Intellectual Property Alert

,

November 28, 2022

Hodgson Russ Intellectual Property Litigation Alert 

,

October 31, 2022

Hodgson Russ Labor & Employment Alert 

,

October 26, 2022

Hodgson Russ Labor & Employment Alert 

,

October 24, 2022

Hodgson Russ Labor & Employment Alert 

,

October 21, 2022

Hodgson Russ Labor & Employment Alert 

,

October 21, 2022

Hodgson Russ Intellectual Property Litigation Alert

,

October 19, 2022

Hodgson Russ Intellectual Property Litigation Alert

,

July 21, 2022

Hodgson Russ Labor & Employment Alert

,

May 17, 2022

Hodgson Russ Product Liability & Complex Tort Alert

,

May 10, 2022

Hodgson Russ Labor & Employment Alert

,

May 6, 2022

Hodgson Russ Product Liability Litigation & Legislation Quarterly Update

,

May 2022

Hodgson Russ Labor & Employment Alert

,

April 5, 2022

Hodgson Russ Labor & Employment Alert

,

March 23, 2022

Hodgson Russ Labor & Employment Alert

,

February 25, 2022

Hodgson Russ Labor & Employment Alert

,

February 25, 2022

Hodgson Russ OSHA and Labor & Employment Alert

,

February 18, 2022

Hodgson Russ Product Liability Litigation & Legislation Quarterly Update

,

January/February 2022

Hodgson Russ OSHA and Labor & Employment Alert

,

January 14, 2022

Hodgson Russ OSHA and Labor & Employment Alert

,

January 12, 2022

Hodgson Russ Labor & Employment Alert

,

January 5, 2022

Hodgson Russ Labor & Employment Alert

,

January 4, 2022

Hodgson Russ OSHA and Labor & Employment Alert

,

December 23, 2021

Hodgson Russ Labor & Employment Alert

,

December 20, 2021

Hodgson Russ OSHA and Labor & Employment Alert

,

December 20, 2021

Hodgson Russ Labor & Employment Alert

,

December 8, 2021

Hodgson Russ OSHA and Labor & Employment Alert

,

December 8, 2021

Hodgson Russ Labor & Employment Alert

,

December 6, 2021

Hodgson Russ Labor & Employment Alert

,

December 3, 2021

Hodgson Russ OSHA Alert

,

November 17, 2021

Hodgson Russ Labor & Employment Alert

,

November 15, 2021

Hodgson Russ OSHA Alert

,

November 8, 2021

Hodgson Russ OSHA Alert

,

November 5, 2021

Hodgson Russ Healthcare and Labor & Employment Alert

,

November 5, 2021

Hodgson Russ Cannabis & Hemp and Labor & Employment Alert

,

November 4, 2021

Hodgson Russ Healthcare and Labor & Employment Alert

,

November 2, 2021

Hodgson Russ Labor & Employment Alert

,

October 26, 2021

Hodgson Russ Labor & Employment Alert

,

September 7, 2021

Labor and Employment Alert

,

July 19, 2021

Hodgson Russ Labor & Employment Alert

,

June 15, 2021

Hodgson Russ Labor and Employment Alert

,

May 13, 2021

Hodgson Russ Labor and Employment Alert

,

April 5, 2021

Hodgson Russ Torts, Insurance and Products Liability Alert

,

March 25, 2021

Hodgson Russ COVID-19 Litigation and Employment Action Team Alert

,

March 25, 2021

Hodgson Russ Labor and Employment Alert

,

March 15, 2021

Hodgson Russ COVID-19 Litigation and Employment Action Team Alert

,

March 11, 2021

Hodgson Russ COVID-19 Litigation and Employment Action Team Alert

,

March 10, 2021

Hodgson Russ COVID-19 Litigation and Employment Action Team Alert

,

February 8, 2021

COVID-19 Litigation and Employment Action Team Alert

,

January 29, 2021

Hodgson Russ Labor & Employment Alert

,

January 25, 2021

Hodgson Russ COVID-19 Litigation & Employment Action Team Alert

,

January 21, 2021

Hodgson Russ Corporate & Business Alert

,

December 30, 2020

Hodgson Russ Labor & Employment Alert

,

December 18, 2020

Hodgson Russ Labor & Employment Alert

,

December 3, 2020

Hodgson Russ COVID-19 Litigation & Employment Action Team Alert

,

November 4, 2020

Hodgson Russ Labor & Employment Alert

,

November 2, 2020

Hodgson Russ Labor & Employment Alert

,

October 23, 2020

Hodgson Russ Labor & Employment Alert

,

October 22, 2020

Hodgson Russ Labor and Employment Alert 

,

October 21, 2020

Hodgson Russ COVID-19 Litigation & Employment Action Team Alert

,

October 15, 2020

Hodgson Russ COVID-19 Litigation & Employment Action Team Alert

,

October 12, 2020

Hodgson Russ Labor & Employment Alert

,

September 14, 2020

Hodgson Russ COVID-19 Litigation & Employment Action Team Alert

,

September 10, 2020

Hodgson Russ COVID-19 Litigation and Employment Action Team Alert

,

August 6, 2020

Hodgson Russ Labor & Employment Alert

,

August 6, 2020

Hodgson Russ COVID-19 Litigation and Employment Action Team Alert

,

July 28, 2020

Hodgson Russ Labor & Employment Alert

,

July 23, 2020

Hodgson Russ Labor & Employment Alert

,

July 7, 2020

Hodgson Russ Labor & Employment Alert

,

June 29, 2020

Hodgson Russ Labor & Employment Alert

,

June 29, 2020

Hodgson Russ Labor & Employment Alert

,

June 23, 2020

Hodgson Russ Business Litigation Alert

,

June 23, 2020

Hodgson Russ Business Litigation and Bankruptcy & Restructuring Alert

,

June 22, 2020

Hodgson Russ Labor & Employment Alert

,

June 18, 2020

Hodgson Russ Labor & Employment Alert

,

June 16, 2020

Hodgson Russ Class Action Litigation Alert

,

May 29, 2020

Hodgson Russ Business Litigation Alert

,

May 22, 2020

Hodgson Russ Labor & Employment Alert

,

May 20, 2020

Hodgson Russ Renewable Energy and Construction Alert

,

May 15, 2020

Hodgson Russ OSHA and Business Litigation Alert

,

May 13, 2020

Hodgson Russ Labor & Employment Alert

,

April 28, 2020

Hodgson Russ Intellectual Property Litigation Alert

,

April 27, 2020

Hodgson Russ Business Litigation Alert

,

April 22, 2020

Hodgson Russ Business Litigation and Securities Regulation & Corporate Compliance Alert

,

April 22, 2020

Hodgson Russ Torts, Insurance & Products Liability Alert

,

April 17, 2020

Hodgson Russ Labor & Employment Alert

,

April 16, 2020

Hodgson Russ Business Litigation Alert

,

April 15, 2020

Hodgson Russ Labor & Employment Alert

,

April 14, 2020

Hodgson Russ Business Litigation Alert

,

April 9, 2020

Hodgson Russ Construction Alert

,

April 9, 2020

Hodgson Russ Labor & Employment Alert

,

April 7, 2020

Hodgson Russ Labor & Employment Practice Alert

,

April 6, 2020

Hodgson Russ Labor & Employment and OSHA Alert

,

April 2, 2020

Hodgson Russ Labor & Employment Alert

,

March 29, 2020

Hodgson Russ Labor & Employment Alert

,

March 26, 2020

Hodgson Russ Labor & Employment Alert

,

March 25, 2020

Hodgson Russ Tax and Labor & Employment Alert

,

March 24, 2020

Hodgson Russ Corporate Alert

,

March 23, 2020

Hodgson Russ Labor & Employment Alert

,

March 22, 2020

Hodgson Russ Labor & Employment Alert

,

March 20, 2020

Hodgson Russ Labor & Employment Alert

,

March 20, 2020

Hodgson Russ Labor & Employment Alert

,

March 19, 2020

Hodgson Russ Labor & Employment Alert

,

March 19, 2020

Hodgson Russ Labor & Employment Alert

,

March 18, 2020

Hodgson Russ Non-Compete, Non-Solicit & Trade Secrets Alert

,

March 12, 2020

Hodgson Russ Labor & Employment Alert

,

March 6, 2020

Personal Injury Defense Techniques

Matthew Bender Publications

Hodgson Russ Labor & Employment Alert

,

February 3, 2020
Professional Associations
New York State Bar Association
American Association for Justice
New York State Trial Lawyers Association
National Association of Dealer Counsel
Federation of Defense & Corporate Counsel