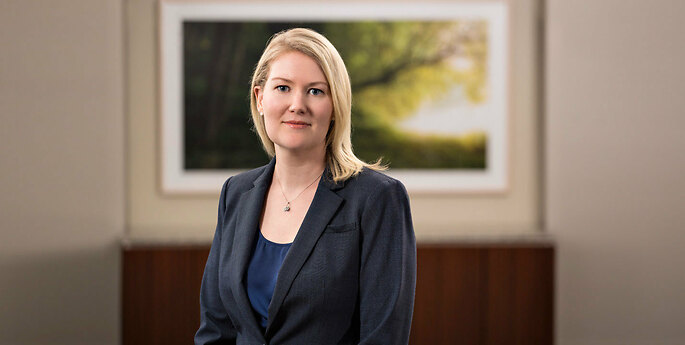 Elizabeth A. Holden
Partner
Areas of Practice
Industry Groups
Education
University of Michigan, B.A., With High Distinction
Notre Dame Law School, J.D., Magna Cum Laude
Elizabeth concentrates her practice on commercial real estate development projects and in real estate aspects of large-scale renewable energy projects. Her experience in commercial real estate includes commercial leasing, purchase and sale transactions, large-scale property review due diligence projects (including all aspects of survey and title review), industrial development agency projects and financing, conservation easements and dedications, and municipal and school district property transactions. She has advised regional and national companies with their business and real estate needs on a wide range of projects, including shopping centers, bank branches, laboratory space, retail stores, educational facilities, athletic facilities, medical offices, manufacturing and warehouse facilities, and general office space.
In the area of power generation, Elizabeth has acted as lead real estate counsel on large-scale wind, solar, combined-cycle gas turbine, and biofuel energy projects. Her renewable energy experience includes negotiating power purchase agreements zoning and municipal agreements on behalf of municipalities; advising developers on project finance structuring, leasing requirements, and securing wind energy development rights; and drafting and negotiating land acquisition agreements, title policies, curative documents, and financing agreements.
Beth exclusively practices U.S. law and is admitted to practice in New York.
Honors
Former member, Notre Dame International Moot Court Team
Phi Beta Kappa
Former chapter president, Golden Key International Honour Society
Chambers USA: America's Leading Lawyers for Business, 2017-2019
Experience
Elizabeth's recent practice highlights include:
Overseeing multistate acquisition expansion projects, including leasing and purchasing due diligence projects and associated negotiations for a multistate retailer involving the simultaneous acquisition of more than 60 locations
Acting as lead real estate counsel to a wind energy developer on the real estate, construction and finance aspects of a $200 million, 88.5 megawatt wind energy project
Advising in the development of a multifaceted facility expansion project, including the purchase of real estate and all aspects of financing and local development incentives for the acquisition
Counseling both land trusts and individual donors in the creation of more than 500 acres of conservation land and historic structures
Negotiation of solar power purchase agreements under the NY Sun Initiative
News
Press Release

,

May 1, 2019

Commercial Lease Law Insider

,

March 29, 2019

Press Release

,

May 4, 2018

Buffalo Business First

,

November 3, 2017

Press Release

,

June 12, 2017

The Street

,

January 7, 2016

Press Release

,

January 3, 2014
Presentations
New York, New York

,

January 28, 2019

Millennium Hotel Buffalo

,

January 18, 2019

Buffalo, NY

,

June 1, 2016

The Harvard Club, 35 W. 44th Street, New York, NY

,

Summer 2015

Buffalo, NY

,

January 17, 2014

Buffalo, NY

,

January 18, 2013

Buffalo, NY

,

October 23, 2012

Buffalo, NY

,

March 24, 2012

Buffalo, NY

,

October 28, 2011

Buffalo, NY

,

October 28, 2011

Buffalo, NY

,

January 9, 2009
Publications
Environmental Law Alert

,

May 7, 2019

Renewable Energy Alert

,

May 6, 2019

Environmental Law Alert

,

April 22, 2019

Environmental Law Alert

,

April 18, 2019

Increased Regulatory Requirements and Water Infrastructure Investment Likely in 2019

Environmental Alert

,

December 21, 2018

Renewable Energy Alert

,

November 20, 2018

NYSERDA Adds Property Tax Calculator to Solar Toolkit

Cleantech Alert

,

February 23, 2018

Have you Filed your Tax Exemption Applications?

Cleantech Alert

,

February 23, 2018

Real Estate Development Alert

,

October 29, 2015

Cleantech Alert

,

February 13, 2015

State Tax Notes

,

March 31, 2014

Environment & Energy Alert

,

March 27, 2012

The Journal of Medical Practice Management

,

March/April 2012
Social Media
Beth contributed to Hodgson Russ's Clean and Green Law blog. Her blog entries included:
"Cleantech Funding Sees Continued Support in Obama's Proposed 2014 Budget," April 18, 2013
"Construction Company Survey Reveals Latest Findings on New Green Building and LEED Certification Trends," December 4, 2012
"Local Property Tax Exemption Option for Green Construction Authorized in New York State," July 30, 2012
Professional Associations
Beth served on the Executive Committee of the New York State Bar Association Real Property Law Section. She is co-chair of the section's Commercial Leasing Committee and a former co-chair of the section's Task Force on Fracturing/Wind Power.
Community & Pro Bono
Beth currently serves as a board member of the Buffalo and Erie County Botanical Gardens. She previously served on the boards of directors of Buffalo Niagara 360, MusicalFare Theatre, Vocalis, and Homespace Inc. She is a past member of the Amherst Conservation Advisory Council.