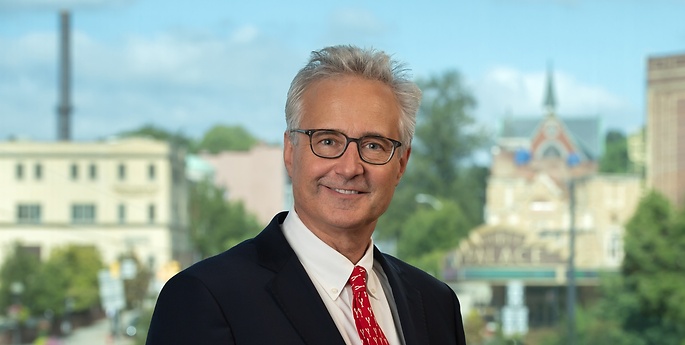 Practices & Industries
Admissions
New York
Massachusetts
U.S. District Court, Eastern District of New York
U.S. District Court, Northern District of New York
U.S. District Court, Southern District of New York
U.S. District Court, Western District of New York
U.S. Court of Appeals, Second Circuit
Education
Cornell University, School of Industrial and Labor Relations, B.S.
Cornell Law School, J.D.
Glen represents employers and management in all aspects of labor and employment law, with particular emphasis on employment discrimination, wage and hour litigation, wage and hour collective and class actions, multiple-plaintiff litigation, sexual harassment, employee benefit litigation, non-competition and wrongful discharge litigation, employee-contractor classification, union organizing campaigns, unfair labor practices, collective bargaining, project labor agreements, and withdrawal liability.
Glen's practice includes advice and counsel on a broad range of matters such as discipline and discharge, wage and hour compliance, workplace investigations, governmental audits, drug and alcohol testing, safety and health compliance, handbooks, EEO compliance, reductions in force, plant closings, and negotiation and drafting of critical employment documents, including restrictive covenants, executive employment agreements, commission plans, and releases (group and individual).
Glen regularly conducts corporate investigations related to claims of discrimination and harassment in the workplace. Although his practice includes investigation of allegations of sex, age, race, disability, religion, gender and other protected class discrimination, Glen's primary focus is the investigation of allegations of sexual harassment and hostile (toxic) work environment. He has conducted investigations for clients in a wide variety of industries, such as manufacturing, construction, healthcare, insurance, public sector, legal services, nonprofit, pharmaceutical and financial services.
Consistent with the breadth of his practice, Glen is a frequent lecturer on a wide range of employment and labor topics for various bar associations and employer groups. He has also written on such diverse topics such as the litigation of discrimination claims, interviewing, background checks, wage and hour audits, offer letters and employment agreements, layoffs, workplace investigations, arbitration of individual employment claims, settlement agreements and lawyers as employers. Since 2000, Glen has authored Labor and Employment Practice Review, a monthly article published by the Albany County Bar Association.
Honors
Listed, Best Lawyers in America (Employment Law - Management) 2017 - 2024
Listed, Best Lawyers in America Lawyer of the Year (Employment Law - Management) 2022
Listed, Upstate New York Super Lawyers (Employment & Labor) 2007 - 2023
Listed, Top 25 Upstate New York Super Lawyers (Employment & Labor) 2020
Martindale Hubbell AV Rating - Preeminent
In the News
The Saratogian

,

October 13, 2020

Albany Business Review

,

October 12, 2020

Times-Union

,

October 9, 2020

Albany Business Review

,

April 17, 2020

Albany Business Review

,

February 21, 2020
Press Releases
Hodgson Russ Press Release

,

August 23, 2022

Hodgson Russ Press Release

,

August 19, 2022

Hodgson Russ Press Release

,

August 20, 2021

Hodgson Russ Press Release

,

August 19, 2021

Hodgson Russ Press Release

,

January 21, 2021

Hodgson Russ Press Release

,

September 8, 2020

Hodgson Russ Press Release

,

August 20, 2020

Hodgson Russ Press Release

,

September 3, 2019
Publications
Hodgson Russ Healthcare Alert 

,

September 7, 2023

Hodgson Russ Occupational Safety & Health Act Alert

,

August 8, 2023

Hodgson Russ Labor & Employment Alert 

,

July 6, 2023

Hodgson Russ Labor & Employment Alert 

,

June 28, 2023

Hodgson Russ Labor & Employment Alert

,

May 16, 2023

Hodgson Russ Home Care and Healthcare Alert

,

May 16, 2023

Hodgson Russ Labor & Employment Alert 

,

April 26, 2023

Hodgson Russ Labor & Employment Alert

,

February 7, 2023

Hodgson Russ Non-Compete, Non-Solicit, and Trade Secrets Alert

,

January 6, 2023

Hodgson Russ Labor & Employment Alert

,

December 28, 2022

Hodgson Russ Labor & Employment Alert

,

December 27, 2022

Hodgson Russ Municipal Alert

,

November 28, 2022

Hodgson Russ Labor & Employment Alert 

,

October 26, 2022

Hodgson Russ Labor & Employment Alert 

,

October 24, 2022

Hodgson Russ Labor & Employment Alert 

,

October 21, 2022

Hodgson Russ Labor & Employment Alert 

,

October 21, 2022

Hodgson Russ Labor & Employment Alert

,

May 17, 2022

Hodgson Russ Municipal Alert

,

May 16, 2022

Hodgson Russ Labor & Employment Alert

,

May 6, 2022

Hodgson Russ Renewable Energy & Municipal Alert

,

May 3, 2022

Hodgson Russ Municipal and Education Alert

,

April 19, 2022

Hodgson Russ Labor & Employment Alert

,

April 5, 2022

Hodgson Russ OSHA and Healthcare Alert

,

March 28, 2022

Hodgson Russ Labor & Employment Alert

,

March 23, 2022

Hodgson Russ Labor & Employment Alert

,

February 25, 2022

Hodgson Russ Labor & Employment Alert

,

February 25, 2022

Hodgson Russ OSHA and Labor & Employment Alert

,

February 18, 2022

Hodgson Russ OSHA and Labor & Employment Alert

,

January 14, 2022

Hodgson Russ OSHA and Labor & Employment Alert

,

January 12, 2022

Hodgson Russ Healthcare Alert

,

January 6, 2022

Hodgson Russ Labor & Employment Alert

,

January 5, 2022

Hodgson Russ Labor & Employment Alert

,

January 4, 2022

Hodgson Russ OSHA and Labor & Employment Alert

,

December 23, 2021

Hodgson Russ Labor & Employment Alert

,

December 20, 2021

Hodgson Russ OSHA and Labor & Employment Alert

,

December 20, 2021

Hodgson Russ Labor & Employment Alert

,

December 8, 2021

Hodgson Russ OSHA and Labor & Employment Alert

,

December 8, 2021

Hodgson Russ Labor & Employment Alert

,

December 6, 2021

Hodgson Russ Labor & Employment Alert

,

December 3, 2021

Hodgson Russ OSHA Alert

,

November 17, 2021

Hodgson Russ Labor & Employment Alert

,

November 15, 2021

Hodgson Russ OSHA Alert

,

November 8, 2021

Hodgson Russ Healthcare and Labor & Employment Alert

,

November 5, 2021

Hodgson Russ OSHA Alert

,

November 5, 2021

Hodgson Russ Cannabis & Hemp and Labor & Employment Alert

,

November 4, 2021

Hodgson Russ Healthcare and Labor & Employment Alert

,

November 2, 2021

Hodgson Russ Municipal Alert

,

October 29, 2021

Hodgson Russ Labor & Employment Alert

,

October 26, 2021

Hodgson Russ Healthcare and Labor & Employment Alert

,

October 13, 2021

Hodgson Russ OSHA Alert

,

September 21, 2021

Hodgson Russ OSHA Alert

,

September 10, 2021

Hodgson Russ Labor & Employment Alert

,

September 7, 2021

Coronavirus Guidance Update - Healthcare

,

August 27, 2021

Hodgson Russ Healthcare Alert

,

August 25, 2021

Labor and Employment Alert

,

July 19, 2021

Hodgson Russ OSHA Alert

,

July 1, 2021

Hodgson Russ OSHA Alert

,

June 15, 2021

Hodgson Russ Labor & Employment Alert

,

June 15, 2021

Hodgson Russ Labor and Employment Alert

,

May 13, 2021

Hodgson Russ OSHA Alert

,

April 27, 2021

Hodgson Russ Labor and Employment Alert

,

April 5, 2021

Hodgson Russ COVID-19 Litigation and Employment Action Team Alert

,

March 25, 2021

Hodgson Russ OSHA Alert

,

March 17, 2021

Hodgson Russ Labor and Employment Alert

,

March 15, 2021

Hodgson Russ COVID-19 Litigation and Employment Action Team Alert

,

March 11, 2021

Hodgson Russ COVID-19 Litigation and Employment Action Team Alert

,

March 10, 2021

Albany County Bar Association

,

March 2021

Hodgson Russ COVID-19 Litigation and Employment Action Team Alert

,

February 8, 2021

COVID-19 Litigation and Employment Action Team Alert

,

January 29, 2021

Hodgson Russ Labor & Employment Alert

,

January 25, 2021

Hodgson Russ COVID-19 Litigation & Employment Action Team Alert

,

January 21, 2021

Albany County Bar Association

,

January 2021

Hodgson Russ Labor & Employment Alert

,

December 18, 2020

Hodgson Russ Labor & Employment Alert

,

December 3, 2020

Albany County Bar Association

,

November/December 2020

Hodgson Russ COVID-19 Litigation & Employment Action Team Alert

,

November 4, 2020

Hodgson Russ Labor & Employment Alert

,

November 2, 2020

Hodgson Russ Labor & Employment Alert

,

October 23, 2020

Hodgson Russ Labor & Employment Alert

,

October 22, 2020

Hodgson Russ Labor and Employment Alert 

,

October 21, 2020

Hodgson Russ COVID-19 Litigation & Employment Action Team Alert

,

October 15, 2020

Hodgson Russ COVID-19 Litigation & Employment Action Team Alert

,

October 12, 2020

Albany County Bar Association

,

October 2020

The CPA Journal

,

September 14, 2020

Hodgson Russ Labor & Employment Alert

,

September 14, 2020

Hodgson Russ COVID-19 Litigation & Employment Action Team Alert

,

September 10, 2020

Albany County Bar Association

,

September 2020

Hodgson Russ OSHA Alert

,

August 17, 2020

Hodgson Russ COVID-19 Litigation and Employment Action Team Alert

,

August 6, 2020

Hodgson Russ Labor & Employment Alert

,

August 6, 2020

Albany County Bar Association

,

July/August 2020

Hodgson Russ COVID-19 Litigation and Employment Action Team Alert

,

July 28, 2020

Hodgson Russ Labor & Employment Alert

,

July 23, 2020

Hodgson Russ COVID-19 Litigation & Employment Action Team Alert

,

July 14, 2020

Hodgson Russ Labor & Employment Alert

,

July 7, 2020

BLR's New York Employment Law Letter

,

July 1, 2020

Hodgson Russ Labor & Employment Alert

,

June 29, 2020

Hodgson Russ Labor & Employment Alert

,

June 29, 2020

Hodgson Russ OSHA Alert

,

June 26, 2020

Hodgson Russ Labor & Employment Alert

,

June 23, 2020

Hodgson Russ Labor & Employment Alert

,

June 18, 2020

Hodgson Russ Labor & Employment Alert

,

June 16, 2020

Hodgson Russ COVID-19 Litigation & Employment Action Team Alert

,

June 15, 2020

Hodgson Russ OSHA Alert

,

June 15, 2020

Hodgson Russ OSHA Alert

,

June 9, 2020

Hodgson Russ OSHA Alert

,

June 1, 2020

Albany County Bar Association

,

June 2020

Hodgson Russ OSHA Alert

,

May 27, 2020

Hodgson Russ Labor & Employment Alert

,

May 20, 2020

Hodgson Russ OSHA Alert

,

May 18, 2020

Hodgson Russ Renewable Energy and Construction Alert

,

May 15, 2020

Albany County Bar Association

,

May 2020

Hodgson Russ Labor & Employment Alert

,

April 28, 2020

Hodgson Russ Labor & Employment Alert

,

April 16, 2020

Hodgson Russ Labor & Employment Alert

,

April 14, 2020

Hodgson Russ Construction Alert

,

April 9, 2020

Hodgson Russ Labor & Employment Alert

,

April 7, 2020

Hodgson Russ Labor & Employment Practice Alert

,

April 6, 2020

Hodgson Russ Labor & Employment and OSHA Alert

,

April 2, 2020

Albany County Bar Association

,

April 2020

Hodgson Russ Labor & Employment Alert

,

March 29, 2020

Hodgson Russ Construction Alert

,

March 27, 2020

Hodgson Russ Labor & Employment Alert

,

March 26, 2020

Hodgson Russ Labor & Employment Alert

,

March 25, 2020

Hodgson Russ Tax and Labor & Employment Alert

,

March 24, 2020

Hodgson Russ Labor & Employment Alert

,

March 22, 2020

Hodgson Russ Labor & Employment Alert

,

March 20, 2020

Hodgson Russ Labor & Employment Alert

,

March 20, 2020

Hodgson Russ Labor & Employment Alert

,

March 19, 2020

Hodgson Russ Labor & Employment Alert

,

March 19, 2020

Hodgson Russ Labor & Employment Alert

,

March 18, 2020

Hodgson Russ Non-Compete, Non-Solicit & Trade Secrets Alert

,

March 12, 2020

Hodgson Russ Labor & Employment Alert

,

March 6, 2020

Albany County Bar Association

,

March 2020

Hodgson Russ Labor & Employment Alert

,

February 3, 2020

Albany County Bar Association

,

January/February 2020

Albany County Bar Association

,

November/December 2019

Albany County Bar Association

,

October 2019

Albany County Bar Association

,

September 2019
Presentations & Events
Buffalo Marriott Niagara 1340 Millersport Hwy, Amherst, NY 14221

,

January 12, 2023

Buffalo Niagara Marriott, Amherst, NY

,

November 14, 2019
Professional Associations
American Bar Association
New York State Bar Association
Albany County Bar Association
Community & Pro Bono
Former Member, Board of Directors: St. Peter's Hospital Foundation
Former Member and Chairperson, Board of Directors: Maria College
Former Member and President, Board of Directors: Albany County Bar Association
Former Member, House of Delegates: New York State Bar Association