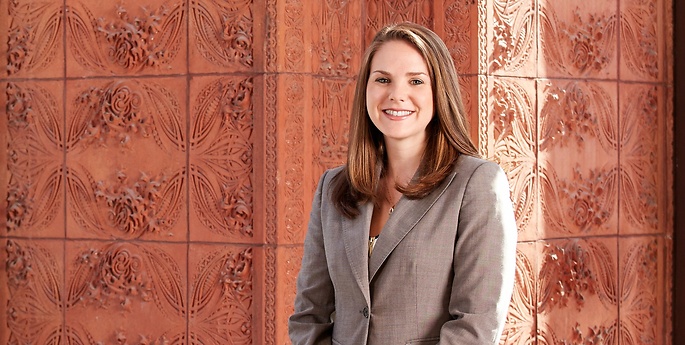 Practices & Industries
Bar Associations
New York State Bar Association
Bar Association of Erie County
Women's Bar Association of the State of New York
Admissions
New York
U.S. District Court, Western District of New York
Clerkships
Judge Johnathan Feldman, U.S. District Court for the Western District of New York, 2012
Education
Cornell University, B.S.
University at Buffalo School of Law, J.D., magna cum laude
Luisa regularly counsels and represents private and public sector clients in all aspects of labor and employment law. Her practice includes federal and state employment discrimination, workplace policies, employee evaluations, discipline and discharge, contract negotiations, union avoidance, and unemployment insurance issues. She has represented clients in cases involving the New York State Department of Labor, the New York State Division of Human Rights, the Equal Employment Opportunity Commission, the National Labor Relations Board, and the Public Employment Relations Board.
Luisa also counsels school districts on a range of legal challenges such as special education litigation, student disciplinary matters, labor relations matters, and the development and implementation of school district policies.
Since March of 2020, both public and private sector employers have faced increased and unprecedented challenges related to the coronavirus pandemic. Luisa's practice has included a focus on addressing pandemic related challenges, from safety issues (mask, testing, quarantines) to leave and accommodation related implementation under a myriad of state and federal laws.
Prior to joining Hodgson Russ, Luisa worked at a local mid-size firm in its litigation and employment law practice groups.
Honors
Listed, Best Lawyers in America Ones to Watch, (Labor & Employment Law - Management) 2021 - 2024
Listed, Upstate New York Super Lawyers Rising Stars (Employment & Labor) 2019 - 2023
Cali Award for Employment Law
Former note and comment editor, Buffalo Law Review
Press Releases
Hodgson Russ Press Release

,

August 23, 2022

Hodgson Russ Press Release

,

August 19, 2022

Hodgson Russ Press Release

,

August 20, 2021

Hodgson Russ Press Release

,

August 19, 2021

Hodgson Russ Press Release

,

September 15, 2020

Hodgson Russ Press Release

,

September 8, 2020

Hodgson Russ Press Release

,

January 17, 2020

Press Release

,

August 12, 2019
Publications
Hodgson Russ Education Alert

,

October 20, 2023

Hodgson Russ Labor & Employment Alert

,

October 3, 2023

Hodgson Russ LLP Labor & Employment Alert

,

September 28, 2023

Hodgson Russ Occupational Safety & Health Act Alert

,

August 8, 2023

Hodgson Russ Education Alert 

,

July 21, 2023

Hodgson Russ Labor & Employment Alert 

,

July 6, 2023

Hodgson Russ Labor & Employment Alert 

,

June 28, 2023

Hodgson Russ Labor & Employment Alert

,

May 16, 2023

Hodgson Russ Labor & Employment Alert 

,

April 26, 2023

Hodgson Russ Education Alert

,

April 18, 2023

Hodgson Russ Labor & Employment Alert

,

February 7, 2023

Hodgson Russ Labor & Employment Alert

,

December 28, 2022

Hodgson Russ Labor & Employment Alert

,

December 27, 2022

Hodgson Russ Municipal Alert

,

November 28, 2022

Hodgson Russ Labor & Employment Alert 

,

October 26, 2022

Hodgson Russ Labor & Employment Alert 

,

October 24, 2022

Hodgson Russ Labor & Employment Alert 

,

October 21, 2022

Hodgson Russ Labor & Employment Alert 

,

October 21, 2022

Hodgson Russ Education Alert

,

October 18, 2022

Hodgson Russ Education Alert 

,

June 24, 2022

Hodgson Russ Labor & Employment Alert

,

May 17, 2022

Hodgson Russ Municipal Alert

,

May 16, 2022

Hodgson Russ Labor & Employment Alert

,

May 6, 2022

Hodgson Russ Renewable Energy & Municipal Alert

,

May 3, 2022

Hodgson Russ Municipal and Education Alert

,

April 19, 2022

Hodgson Russ Labor & Employment Alert

,

April 5, 2022

Hodgson Russ Labor & Employment Alert

,

March 23, 2022

Hodgson Russ Labor & Employment Alert

,

February 25, 2022

Hodgson Russ Labor & Employment Alert

,

February 25, 2022

Hodgson Russ OSHA and Labor & Employment Alert

,

February 18, 2022

Hodgson Russ OSHA and Labor & Employment Alert

,

January 14, 2022

Hodgson Russ OSHA and Labor & Employment Alert

,

January 12, 2022

Hodgson Russ Labor & Employment Alert

,

January 5, 2022

Hodgson Russ Labor & Employment Alert

,

January 4, 2022

Hodgson Russ OSHA and Labor & Employment Alert

,

December 23, 2021

Hodgson Russ OSHA and Labor & Employment Alert

,

December 20, 2021

Hodgson Russ Labor & Employment Alert

,

December 20, 2021

Hodgson Russ Labor & Employment Alert

,

December 8, 2021

Hodgson Russ OSHA and Labor & Employment Alert

,

December 8, 2021

Hodgson Russ Labor & Employment Alert

,

December 6, 2021

Hodgson Russ Labor & Employment Alert

,

December 3, 2021

Hodgson Russ OSHA Alert

,

November 17, 2021

Hodgson Russ Labor & Employment Alert

,

November 15, 2021

Hodgson Russ OSHA Alert

,

November 8, 2021

Hodgson Russ OSHA Alert

,

November 5, 2021

Hodgson Russ Healthcare and Labor & Employment Alert

,

November 5, 2021

Hodgson Russ Cannabis & Hemp and Labor & Employment Alert

,

November 4, 2021

Hodgson Russ Healthcare and Labor & Employment Alert

,

November 2, 2021

Hodgson Russ Municipal Alert

,

October 29, 2021

Hodgson Russ Labor & Employment Alert

,

October 26, 2021

Hodgson Russ Labor & Employment Alert

,

September 7, 2021

Hodgson Russ Education Alert

,

September 2, 2021

Hodgson Russ Education Alert

,

August 6, 2021

Labor and Employment Alert

,

July 19, 2021

Hodgson Russ Education and Media & First Amendment Alert

,

June 23, 2021

Hodgson Russ Labor & Employment Alert

,

June 15, 2021

Hodgson Russ Labor and Employment Alert

,

May 13, 2021

Hodgson Russ Labor and Employment Alert

,

April 5, 2021

Hodgson Russ Labor and Employment Alert

,

March 15, 2021

Hodgson Russ Education Alert

,

March 8, 2021

Hodgson Russ Education Alert

,

February 22, 2021

Hodgson Russ Education Alert

,

February 17, 2021

Hodgson Russ Labor & Employment Alert

,

January 25, 2021

Hodgson Russ Labor & Employment Alert

,

December 18, 2020

Hodgson Russ Labor & Employment Alert

,

December 3, 2020

Hodgson Russ Education Alert 

,

December 1, 2020

Hodgson Russ Labor & Employment Alert

,

November 2, 2020

Hodgson Russ Labor & Employment Alert

,

October 23, 2020

Hodgson Russ Labor & Employment Alert

,

October 22, 2020

Hodgson Russ Labor and Employment Alert 

,

October 21, 2020

Hodgson Russ Labor & Employment Alert

,

September 14, 2020

Hodgson Russ Special Education Alert

,

August 7, 2020

Hodgson Russ Municipal and Education Alert

,

August 7, 2020

Hodgson Russ Labor & Employment Alert

,

August 6, 2020

Hodgson Russ Labor & Employment Alert

,

July 23, 2020

Hodgson Russ Labor & Employment Alert

,

July 7, 2020

Hodgson Russ Labor & Employment Alert

,

June 29, 2020

Hodgson Russ Labor & Employment Alert

,

June 29, 2020

Hodgson Russ Labor & Employment Alert

,

June 23, 2020

Hodgson Russ Municipal Alert

,

June 22, 2020

Hodgson Russ Labor & Employment Alert

,

June 18, 2020

Hodgson Russ Labor & Employment Alert

,

June 16, 2020

Hodgson Russ Education Alert

,

June 8, 2020

Hodgson Russ Special Education Alert

,

June 6, 2020

Hodgson Russ Education Alert

,

June 5, 2020

Hodgson Russ Labor & Employment Alert

,

May 20, 2020

Hodgson Russ Education Alert

,

May 13, 2020

Hodgson Russ Municipal Alert

,

May 5, 2020

Hodgson Russ Education Alert

,

May 2, 2020

Hodgson Russ Labor & Employment Alert

,

April 28, 2020

Hodgson Russ Labor & Employment Alert

,

April 16, 2020

Hodgson Russ Municipal Alert

,

April 14, 2020

Hodgson Russ Labor & Employment Alert

,

April 14, 2020

Hodgson Russ Municipal Alert

,

April 10, 2020

Hodgson Russ Education, Municipal & Public Finance Alert

,

April 8, 2020

Hodgson Russ Labor & Employment Alert

,

April 7, 2020

Hodgson Russ Labor & Employment Practice Alert

,

April 6, 2020

Hodgson Russ Labor & Employment and OSHA Alert

,

April 2, 2020

Hodgson Russ Public Finance Alert

,

April 1, 2020

Hodgson Russ Education Alert

,

March 31, 2020

Hodgson Russ Education Alert

,

March 30, 2020

Hodgson Russ Municipal Alert

,

March 30, 2020

Hodgson Russ Labor & Employment Alert

,

March 26, 2020

Hodgson Russ Labor & Employment Alert

,

March 25, 2020

Hodgson Russ Tax and Labor & Employment Alert

,

March 24, 2020

Hodgson Russ Education Alert

,

March 23, 2020

Hodgson Russ Labor & Employment Alert

,

March 22, 2020

Hodgson Russ Labor & Employment Alert

,

March 20, 2020

Hodgson Russ Labor & Employment Alert

,

March 20, 2020

Hodgson Russ Labor & Employment Alert

,

March 19, 2020

Hodgson Russ Labor & Employment Alert

,

March 19, 2020

Hodgson Russ Labor & Employment Alert

,

March 18, 2020

Hodgson Russ Municipal Alert

,

March 17, 2020

Hodgson Russ Education Practice Alert

,

March 17, 2020

Hodgson Russ Municipal Alert

,

March 16, 2020

Hodgson Russ Labor & Employment Alert

,

March 6, 2020

Hodgson Russ Labor & Employment Alert

,

February 3, 2020

Hodgson Russ Municipal Alert

,

January 6, 2020

Hodgson Russ Municipal and Education Alert

,

October 21, 2019

Hodgson Russ Labor & Employment Alert

,

August 19, 2019

Hodgson Russ Labor & Employment Alert

,

August 16, 2019

Hodgson Russ Education Alert

,

August 14, 2019

Hodgson Russ Labor & Employment Alert

,

July 25, 2019

Hodgson Russ Labor & Employment Alert

,

July 17, 2019

Hodgson Russ Labor & Employment Alert

,

July 2, 2019

Hodgson Russ Labor & Employment Alert

,

June 25, 2019

Hodgson Russ Education Alert

,

June 14, 2019

Hemp & Medical Cannabis Alert

,

April 12, 2019

Hodgson Russ Labor & Employment Alert

,

March 18, 2019

Labor & Employment Alert

,

January 15, 2019

Labor & Employment Alert

,

December 26, 2018

Labor & Employment Alert

,

December 26, 2018

Labor & Employment Alert

,

December 26, 2018

Labor & Employment Alert

,

December 26, 2018

Labor & Employment Alert

,

December 26, 2018

Labor and Employment Alert

,

December 26, 2018

Labor & Employment Alert

,

October 1, 2018

Labor & Employment Alert

,

August 29, 2018

Labor & Employment Alert

,

August 14, 2018

Labor & Employment Alert

,

July 19, 2018

Labor & Employment and Employment Litigation Alert

,

February 27, 2018

Labor and Employment Alert

,

January 23, 2018

Labor and Employment Alert

,

December 26, 2017

Labor and Employment Alert

,

December 19, 2017

Labor and Employment Alert

,

December 12, 2017

Special Education Alert

,

December 11, 2017
Presentations & Events
M-Hotel Buffalo, 2040 Walden Ave, Buffalo, NY 14225

,

January 12, 2024

Buffalo Marriott Niagara 1340 Millersport Hwy, Amherst, NY 14221

,

January 13, 2023

Buffalo Marriott Niagara 1340 Millersport Hwy, Amherst, NY 14221

,

January 12, 2023

Buffalo Niagara Marriott, 1340 Millersport Hwy, Amherst, NY 14221

,

May 6, 2022

Millennium Hotel Buffalo

,

January 18, 2019

Buffalo Niagara Marriott, Amherst, NY

,

November 15, 2018

Western New York Healthcare Association, New York Paid Family Leave: Compliance and Pitfalls

Millennium Hotel Buffalo, 2040 Walden Ave, Buffalo, NY

,

January 12, 2018

Buffalo Niagara Marriott, Amherst, NY

,

November 2, 2017

Millennium Hotel, Cheektowaga, NY

,

October 4, 2017
Professional Associations
New York State Bar Association
Bar Association of Erie County
Community & Pro Bono
Board Member, International Institute of Buffalo