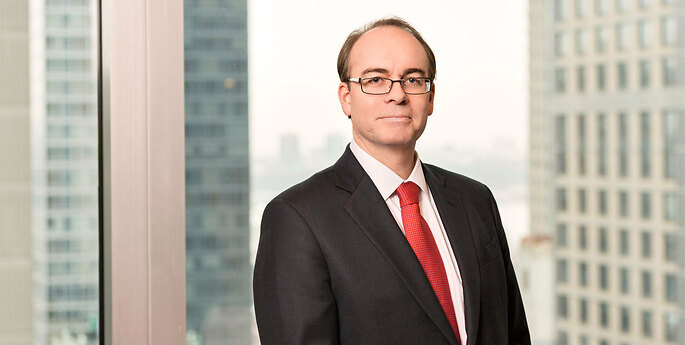 Peter C. Godfrey
Partner; Labor & Employment Practice Area Leader; Wage & Hour, Worker Classification & Employment Tax Practices Leader and Home Care Practice Co- Leader
Practices & Industries
Admissions
New York
U.S. District Court, Eastern District of New York
U.S. District Court, Northern District of New York
U.S. District Court, Southern District of New York
U.S. District Court, Western District of New York
U.S. Court of Appeals, Second Circuit
U.S. Bankruptcy Court, Western District of New York
Education
Villanova University, B.A.
Brooklyn Law School, J.D.
Peter concentrates his practice on management-side labor and employment law and employment tax issues. He represents employers in matters such as wage and hour litigation, including class actions, labor negotiations and arbitrations, employment taxation and worker classification matters, executive compensation and non-compete matters, discrimination and other employment-related litigation and employment-related contracts. He also has substantial experience in advising employers on labor and employment law issues that arise in mergers and acquisitions and reductions in force. Peter practices regularly before federal and state courts and before numerous administrative agencies, including the federal and state departments of labor, tax agencies, the National Labor Relations Board, the New York State Public Employment Relations Board, the Equal Employment Opportunity Commission, and the New York State Division of Human Rights.
Peter is the town attorney for the Town of Grand Island, New York. He has also recently served as a member of the Firm's Board of Directors, Compensation Committee, and as the Firm's Diversity Partner.
Peter exclusively practices U.S. law and is admitted to practice in New York.
Honors
Listed, Best Lawyers in America, "Lawyer of the Year" (Employment Law - Management) 2023
Listed, Best Lawyers in America, "Lawyer of the Year" (Labor Law - Management) 2019, 2023
Listed, Best Lawyers in America (Employment Law - Management, Labor Law - Management) 2013 - 2024
Listed,

Chambers USA: America's Leading Lawyers for Business, (Labor & Employment) 2019 - 2023
Presentations & Events
Buffalo Marriott Niagara 1340 Millersport Hwy, Amherst, NY 14221

,

January 12, 2023

Wednesdays, May 6 - June 17

Buffalo Niagara Marriott, Amherst, NY

,

November 14, 2019

Millennium Hotel, 2040 Walden Avenue, Cheektowaga, NY 14225

,

May 16, 2019

New Yorker Hotel, 34th Street & 8th Avenue, New York, NY 10001

,

December 12, 2018

Buffalo Niagara Marriott, Amherst, NY

,

November 15, 2018

Uniondale, New York

,

October 23-24, 2018

September 18, 21, 24 and 27

Understanding New York State Tax Issues of 2018

The Harvard Club 35 W. 44th Street, New York, NY

,

June 13 to August 1, 2018

605 Third Avenue, Suite 2300, New York, NY 10158

,

May 23, 2018

United States Law Firm Group Presentation

Hodgson Russ, 140 Pearl St, Buffalo, NY 14202

,

May 17 to May 18, 2018

Millennium Hotel, 2040 Walden Avenue, Cheektowaga, NY 14225

,

May 17, 2018

New Challenges:  Paid Family Leave, Call-In Pay, and Increases to Minimum Wage

Cooperstown, New York

,

May 9, 2018

Management Attorneys Conference, Trends in Wage and Hour Litigation

DDAWNY Presentation, New York Paid Family Leave: Are you Ready?

Buffalo Niagara Marriott, Amherst, NY

,

November 2, 2017

HCP Conference, Focus on Wage and Hour Laws

Hodgson Russ NYC

,

September 27, 2017

ACE  Speech, An Overview of the New York Paid Family Leave Law

Hodgson Russ LLP, NYC

,

June 20, 2017

Millenium Hotel, 2040 Walden Avenue, Cheektowaga, NY

,

May 25, 2017

CDPAP Seminar, Wage and Hour  for CDPAP: From the 101 to the 501

Hodgson Russ, 140 Pearl St, Buffalo, NY

,

April 18, 2017

Buffalo Marriott Niagara, 1340 Millersport Highway, Amherst, NY

,

November 3, 2016

HCP Conference, Gaining an Edge in Wage and Hour Laws

Cheektowaga, NY

,

May 17, 2016

Wage and Hour Issues for Consumer Directed Providers

Buffalo/Niagara Marriott, 1340 Millersport Highway, Amherst, NY

,

November 5, 2015

Oakville, ON

,

September 24, 2015

The Harvard Club, 35 W. 44th Street, New York, NY

,

Summer 2015

6557 Holiday Valley Road, Ellicottville, NY

,

April 30, 2015

Buffalo/Niagara Marriott, 1340 Millersport Highway, Amherst, New York

,

November 6, 2014

New York State Association of Health Care Providers Annual Management Conference: The Wage and Hour Puzzle - Putting the Pieces Together 

Uniondale, NY

,

October 29, 2014

Buffalo, NY

,

May 22, 2014

Leading Age New York: How to Avoid a Wage & Hour Train Wreck- Issues, Claims, and Defenses in Compensating Employees

Financial Managers Association Annual Conference: How to Avoid a Wage & Hour Train Wreck

Cooperstown, NY

,

May 7, 2014

Management Attorneys Conference: Worker Classification Update- When are Independent Contractors Actually Employees?

Cooperstown, NY

,

May 2-4, 2014

NFCCA: Worker Classification Update- When are Independent Contactors Actually Employees?

Buffalo, NY

,

March 11, 2014

Amherst, NY

,

November 7, 2013

HCP 2013 Annual Management Conference: How to Avoid a Wage & Hour Shipwreck- Issues, Claims, and Defenses in Compensating Health Care Workers

Albany, NY

,

October 23, 2013

New York, NY

,

September 26, 2013

Hodgson Russ LLP: The Latest Development in Employee Versus Independent Contractor Issues

New York, NY

,

September 26, 2013

Buffalo, NY

,

May 16, 2013

Amherst, NY

,

November 1, 2012

New York, NY

,

October 10, 2012

New York, NY

,

May 22, 2012

Buffalo, NY

,

May 17, 2012

Amherst, NY

,

November 3, 2011

Cheektowaga, NY

,

May 12, 2011

Amherst, NY

,

November 4, 2010

Cheektowaga, NY

,

May 26, 2010

Cheektowaga, NY

,

November 12, 2009

Buffalo, NY

,

March 26, 2009

Buffalo, NY

,

February 26, 2009
Professional Associations
American Bar Association, Labor and Employment Law Section
New York Bar Association, Labor and Employment Law Section
Bar Association of Erie County, Labor and Employment Law Section
Labor Employment Relations Association
Community & Pro Bono
Director: Buffalo Yacht Club
Past Director: Buffalo Canoe Club